What Are the Best Blocks for Toddlers?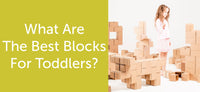 Having trouble finding blocks for toddlers? Are concerned about the safety of your child if you buy them toy blocks? Have experienced the disappointing feeling of seeing your child get bored with a toy you bought them just two days ago? Don't have the courage to go to a toy store to ask the salesperson for his/her advice or opinion? Don't have the patience to go through and choose from the different types of blocks for kids?
Well we've got a treat for you!
Here is the ultimate guide on how to choose the best blocks for toddlers!
What Are the Best Blocks for Toddlers?
We genuinely comprehend your point of view. The term "building blocks" is a very general definition.
It can refer to everything from the plastic building blocks you're familiar with, to the wooden building blocks you might find in a nursery, to those big blocks that kids use for creative play!
What kinds of building blocks are best for toddlers? That is the big question, and that is what we are discussing today.
In a nutshell, the blocks are a set of different shaped and colored parts used as construction toys!
But that's just the start. The field of building blocks is incredibly complex, with a wide variety of styles, forms, heights, materials, age groups, play and learning applications.
Today, we're going to learn many quite fine details and distinctions between various kinds of blocks. By the end of this blog post, you should be able to have a good idea about what blocks are best for toddlers.
The Most Popular Types of Blocks for Toddlers
This is most likely what you came for. I've said it before, and I'll repeat it: the world of block toys is widening, with new creative building blocks being released each year. Here's a rundown of the most popular types of building blocks for toddlers today to get you started.
Alphabet Building Blocks for Toddlers
Alphabet blocks are an educational toy that has been used for over centuries. Alphabet blocks first appeared in 1693. I'm sure people began engraving letters on toy blocks shortly after they were invented. And it makes complete sense!
Alphabet blocks are intended to make learning the alphabet enjoyable and exciting. Learning the alphabet is a crucial developmental achievement and can begin as early as possible in a child's life. It is the first step in the direction of literacy and reading. It is also essential for children to know their alphabet because it helps them to read, write, and communicate more effectively using words.
Pros
They teach children the ABC's

- alphabet blocks are probably one of the

biggest staples of child language development. This is a great language learning tool because children have the ability to physically move letters and experience how words form from letters with their very own hands and eyes.
Are available in multiple languages

- children outside english speaking countries have to learn the alphabet somehow, don't they? Luckily there are as many alphabet block companies as there are countries, so you can expect to get these blocks in practically every language there is

.
Can be used to build towers

- just like any other blocks for toddlers these blocks can be stacked on top of each other to form a tower or a wall or anything else your little munchkin imagines- as long as there are enough blocks for him/her to build with.
Cons
These are usually the first toys that end up in the "forgotten toy corner"

- unfortunately this toy get's outgrown far quicker than any other toy, because children don't find these toys particularly interesting after the age of three. The main issue as to why this happens is found in these toy blocks' greatest feature- the letters. Kids love to imagine, but it's rather hard to do if the toy they're holding always associates itself with the letter A or B.
Suggestions
Melissa & Doug Classic ABC Wooden Block Cart

- you can't go wrong with these, because these blocks for toddlers are large enough to not be a choking hazard in any way and they also come with a little cart that you munchkin can drive around and also store the blocks in. You will definitely get the most out of your money by buying Melissa & Doug alphabet blocks. 
Magnetic Building Blocks for Toddlers
The magnet is a fantastic element itself and integrating it into toys is brilliant. Children are naturally curious about their surroundings when they are young. However, watching the trick of this innovative toy will provide fun for them and intrigue knowledge and exploration for them.
There are now plastic or sturdy wooden building blocks with the magnet entirely enclosed inside each block, making the magnet invisible under the surface. The game of assembling magnetic blocks is a powerful learning medium for children because it helps them develop their mental and physical abilities. When playing with this toy, they grow metacognitive skills.
Pros
Are highly engaging

- kids will have fun for hours with these blocks. Thanks to the magnetic properties of these blocks they have the potential to keep children mesmerised for hours. Parents (and especially dads) find these toys also very interesting and will often ask their children if they can join in on the fun, and soon enough they forget about their troubles at work, bills, car insurance and other nonsense, and are just enjoying the wonderful sight of two magnetic blocks snapping together.
They teach children the fundamentals of magnetism

- "Magnets?! How do they work?" is something that one famous rapper once said- I believe that he wouldn't have said this if he had magnetic building blocks when he was a kid. This is important for children to know, because only thanks to wise men who were able to harness the awesome properties of magnets are we able to create electricity and live in a highly developed world and society.
Are one of the few toys that have the potential to keep children entertained for years

- this toy never gets old! Even parents like to play with them from time to time, therefore you can expect that this toy will also keep your child entertained for years to come. Of course give your children the option to choose other toys to play with, because as we all know one toy is simply not enough. What we are implying is that this toy will not be quickly forgotten or get too boring, even if a child plays with something else- we've noticed that after a while they come back and play with the magnetic blocks again.
Children have the ability to make creations that nearly defy the laws of physics, thanks to how magnets stick to each other

- by doing this, children can further explore the boundaries of gravity and magnetism. This is important because people, not only children, learn from making mistakes, and when the child sees that he/she cannot lift up an entire microwave with a single magnetic block, they will go on to pick something that is of more appropriate size for the magnet and therefore learn the boundaries of not only that particular magnetic block, but also the boundaries of magnetism itself.
Cons
Are costly

- sadly magnetic blocks are pretty expensive to manufacture and, as you might have guessed, the most expensive part of the magnetic building blocks is the magnet itself. Luckily there are multiple options for you to choose from when it comes to buying magnetic building blocks.
Demagnetize over time

- over time magnets lose their magnetic properties and due to their complex nature there is nothing that can be done to fix this. Though this does take a long time, over time (approx. 3-5 years) you will notice that they start to lose their pulling and pushing abilities. 
Suggestions
HOMOFY Magnetic Building Blocks
- these are a great choice for those parents who don't want to worry about their child getting hurt by a toy and for those who want to see their children get a head start to their peers on the subject of physics and science while they play.
HLAOLA Magnetic Building Blocks
- initially we had HLAOLA Magnetic Building Blocks in the first place for this category of blocks for toddlers, but then we looked a little deeper on what is in the market and found practically the same blocks that were a staggering two cents cheaper and had 125 magnetic blocks inside the package compared to HLAOLA which had 102 pieces.
Big Building Blocks for Toddlers | The bigger, the better!
If it's for preschool kids to play with or simply a super-sized variant of some building block — there are a plethora of various types of  giant building blocks on the market.  GIGI Bloks, Lego, and Duplo are the most popular brands of  building blocks. 
Building blocks come in a wide range of sizes, forms, and colors. Some building blocks are available in sets designed to produce a single object using a pattern, but most producers often sell massive sets that your toddlers can use to make various objects.
Pros
Are incredibly fun for not only children but also for adults

- since

properly big building blocks haven't been in the market for more than a few years, grown ups when see these blocks get almost as curious as the little ones, that's why they also experience the urge to try and build a tower or a wall, or a small couch. Having fun with children no longer has to feel like a chore, when you can also be having fun with big blocks for toddlers.
Children get to be the star of their own show

- a child's imagination is a beautiful thing. Seeing how your little one imagines how a little human plastic figure has the most exciting adventures and gets to travel to places yet discovered is truly a heartwarming experience. Us parents would give so much to give our children even just a little taste of what that little plastic doll or figurine has experienced. Well thanks to big building blocks for toddlers, this might be more possible than you might think at first. Children can literally build a  

playhouse

, or a shop, or even a castle where they can live out their fantasies IN REAL LIFE!
Children have the ability to build something in real size

- your child no longer has to have set boundaries of how big they want to build their block cat or dog. They can have their favorite creatures and heroes brought to life just by building them up.
Are generally safe, even when the buildings to topple over

- most big building blocks are made out of cardboard. Since cardboard is a super light and isn't a particularly hard material, it has earned the title of one of the safest materials for toy making. When the skyscraper eventually comes down crumbling, you can be rest assured that even if your little tyke stood right underneath the massive construction, then not even a single hair on his/her head would be damaged by the falling  

cardboard blocks

.
Help in developing cognitive skills

- to be a well functioning adult a child will need to learn a set of skills that include thinking, reading, listening, learning, remembering, understanding, reasoning and paying attention. Luckily big building blocks for toddlers exercise nearly every cognitive skill there is.
Help children develop spatial awareness

- thanks to the big size these are great blocks for toddlers development. These

blocks

are especially great for spatial awareness development because children can achieve a greater sense of their surroundings thanks to the greater scale of creations that they are able to build.
Help to refine fine motor skills- these blocks for toddlers also exercise the physical aspects of the child's body, because the child needs to sit down and sit up a lot, grasp and pick up the big blocks, reach high and stretch their arms and legs excessively, they also have to hold their balance if they have to step on a chair to add even more pieces to the height of the structure. Therefore they are not only using their fingers (like when they do with small toy bricks, but they only exercise the fingers) but every part of their body.
Made from feather-weight materials

- ultra light materials means that your child will be able to pick these blocks up no matter what their age is. This ensures that your junior will be capable of lifting the blocks above their head and achieve even higher building heights.
Cons
Can be costly

- depending on the company selling these blocks, they are usually priced pretty high. Luckily GIGI Bloks has priced their big blocks for toddlers at very affordable and reasonable prices.
The large size of these blocks can pose a problem of storage

- if you live in a small 1 bedroom studio apartment then this might pose a problem for you, since there is barely even a little space where to put a TV. But if you live in a place where you have at least one bedroom for kids, then storing these blocks will only require the kids to stack them in a wall formation against the bedroom wall after they are done playing with them.
Depending on the materials used, can wear down

- if the blocks for toddlers are made out of cardboard, then the cardboard can eventually wear down either because of rough play, accidents, water exposure or just plainly by usage over time, because cardboard, although is strong by itself, is still easily malleable, and is prone to stretching a bit, or crumbling or even tearing. But if your kids know how to play responsibly and if they don't deliberately break their toys, then this toy, even if used regularly, has the potential to serve you for more than a year or two.
Suggestions
GIGI Bloks 100 XXL Giant Building Blocks
we have chosen GIGI Bloks, because they are the clear winners when it comes to safe big building blocks for toddlers that are mega fun and exciting to play with for hours. They cost around 80 dollars for a  
100 giant building blocks
that also interlock with each other, which in my opinion is very acceptable compared to some wooden blocks that cost 50 dollars and have only 70  small size non-interlocking blocks for toddlers included.
Stack Blocks Set for Toddlers
These building blocks are best described as "simple yet complex." Stacking block sets enable children to express themselves creatively while learning about harmony and design.
These building block sets comprise flat wood planks of the same size and form. The structure can be as tall as the child desires, and they will have a great time designing whatever structure they can think of.
Kids who like a challenge (and what talented kid doesn't?) will like finding out how to create things that don't collapse.
Pros
The "Infinite Fountain" of creativity

- thanks to their simple design these blocks for toddlers can often surprise parents in the spark of creativity that gets ignited after the child receives such a simple and uniform toy as this. Kids often build towers and road systems for cars with these blocks.
One of the greatest toys that helps cognitive development

- you can be sure that your children exercise the core cognitive skills, such as thinking, learning, memory, reasoning and concentrating. This is because stacking blocks involves logical thinking and creativity at the same time.
They teach laws of gravity

- are you tired of your child putting something on a table for it to only fall down after someone slightly brushes against it? Get your kid a stack blocks set and watch how fast they improve their understanding of what makes things topple over and why you can't stack some things on top of each other awkwardly.
Can be easily purchased

- a lot of stores recognize the fun nature of stacking blocks, even for adults, as lot's of stores now sell Jenga towers. These are the most basic types of stacking blocks and can be easily found in all toy shops and nearly every supermarket where there is a toys and games section.
Cons
Depending on the size can cause harm for children if the stacked blocks fall

- if you are purchasing a regular size Jenga, then this should not be of great concern. However if you somehow obtain an oversized Jenga, then when a tower topples everyone should steer clear, because these blocks are heavy, since they are usually made of wood. Even a regular size Jenga tower has the potential to fall on your little one's fingers and that could be quite painful for the little one.
Are loud when the stacked blocks eventually do fall

- you can really hear when a stacked tower falls, because the tower is heavy and hard enough to create noise once it falls. To prevent creation of even more noise it is wise to play on the floor and even to put some sheets around the tower, thus reducing the sound to a minimum.
Every piece needs to be found

- if you want to play stack blocks with all the pieces present in the future, then after playing with them every single piece needs to be found and put back in the box. A great way to avoid missing pieces would be to stack blocks in an open area where there is no furniture around where the pieces can slide under.
Suggestions
Jenga Tower

- of course this was our first pick, because they have branded and made their product public and they were the pioneers of selling stacking blocks, therefore we have huge respect for them. Also the quality of these blocks for toddlers of course is impeccable and nowadays they are available in every toy shop and in most supermarkets where there is a toys section.

Our second choice goes to

Coogam Colorful Wooden Blocks Stacking Game

, because these blocks apart from making towers also serve as a more dynamic and interesting game of jenga, because these blocks are colored and you have to throw a dice, and the dice will tell you which color of blocks to remove next.
Wooden Castle Building Blocks for Toddlers
Since they are shaped differently from other blocks, these blocks are rare and one-of-a-kind. The parts make it seem as if your child were constructing a medieval castle. They are usually composed of organic wood and conveniently stack. With so many pieces, your child should be able to build for hours at a time, and there will be space for a sibling or friend to join them.
If your toddler does not want to build their own castle, most packages come with an instruction booklet that explains how to build the castle in the photo. This will improve the child's hand-eye coordination and discipline when they attempt to obey the instructions.
Pros
Anti allergic properties

- since these blocks are made of wood, they are toxin free and are very safe for children to handle and they will not poison your munchkin even if they end up in his/her mouth. For added bonus these blocks also carry a nice smell of trees with them which can be satisfying to many people.
Promotes logical thinking and problem solving

- if a castle needs to be built, then the logical first step is to start with the foundation of the castle. This is what your child essentially learns by building with wooden castle blocks. Your child will quickly forget the "I can't build this?" and replace it with the "How can I build this?". Sometimes parental guidance is needed for the child to feel more confident that he/she is capable of building a castle, because they have a strong ally as their right hand.
Develops instructional learning

- many of these blocks come as construction sets and a child can build something specific with them, like a castle, a house, a fort, a stronghold or even a farm model. Thanks to this, kids get the chance to create something already predetermined without having to think how to do something- they just have to follow instructions.
Are great with other toys like army men, toy cars etc.

- Royal castles and little towns can't exist without people who live, guard and govern them from the inside. Since your child can't physically be inside the castle, he can however assign little plastic army men AKA guards and townspeople for the castle who will help the castle to prosper.
Cons
Depending on the size, they are generally not appropriate for children under 3 years of age

- due to the relatively small size of these blocks for toddlers, they might not be appropriate for children under three years old because of the choking hazard these toys pose. However you can purchase wooden castle building blocks that are a bit bigger, that practically eliminate this hazard.
Suggestions
Migargle Wooden Castle Building Blocks Set

is a fantastic castle block set, because you get 69 pieces for 34 dollars and they also come in multiple colors. The quality and details are fantastic, and we highly recommend these if you want your children to have the ability to build miniature real looking castles.
Our second pick would be (but only by a short distance)Amazon Basics Solid Wood Building Blocks. Now these blocks are more on the expensive side, but you can definitely count on the quality of these, because Amazon themselves are selling these. The only reason why we chose these blocks for the second place is because they are on the pricier side (16 dollars more than the first choice for practically the same amount of blocks).

We must also mention this option because initially this was our first pick for this category of wooden castle blocks sets, but sadly at the point of writing this post they are not available on Amazon. Despite this, here they are-

FAO SCHWARZ 150 Wooden Castle Blocks Set
Foam Blocks for Toddlers
The giant foam blocks will appeal to toddlers, teenagers, and adults alike! The thick foam core is soft enough for active children to use without hurting themselves or their peers. These blocks are large but not so massive that a young child cannot play with them. In fact, these are prescribed for children aged nine months and up.
You won't have to think about these being dirty because the non-toxic polyurethane exterior is simple to clean with a damp cloth. Foam blocks are usually on the higher price side, but if your child is susceptible to accidents, it will provide you with peace of mind.
Pros
Ultra safe

- because of the soft fillings , you can sit back and relax, knowing that your children are not going to get hurt by these blocks- even if they are engaging in rough play.
Are of variable size

- you can have them in the size of a shoe box, to even the size of a sheep. Usually these blocks are on the bigger side if you buy them from a seller. There is also the possibility of custom ordering them in practically any size, shape and color, though this option will bear a big price tag.
Are lightweight

- now your little one can get to feel being strong and capable- just like an adult. Kids enjoy the actions replicating adults and there is nothing more that boosts their self-esteem than the feeling that they are as strong as their supervisors.
Easy to clean

- since the outer sides of this block type is usually made from dermantine, then you can already guess how easy it is to wash these blocks- just use a wet napkin to wipe off all of the stains and dirt and they are as clean as ever!
Cons
Are on the expensive side

- if you are buying ready made foam blocks, then a normal price for them is around 100 USD for just 12 blocks for toddlers. This price is on the more expensive side, however it dwarfs  compared to what it will cost for you to order custom foam blocks, which can end up costing you around 500 USD or even more for just a few blocks. 
Are harder to come by

- these blocks are rarely sold in toy shops and are even harder or next to impossible to find in supermarkets with a designated toy section, because they aren't a very widespread primary choice of toys. You are more likely to find and purchase them on Amazon or on any other online shopping platform than in real life physical stores.
Do exhibit wear and tear over time

- these blocks are usually made by dressing a foam block with a dermantine cover and then sewing the seams shut. The seams are the weakest points of these blocks and unfortunately they do wear out relatively fast. For some blocks the seams come open only after a year of usage. Thankfully they can be repaired either by a professional or by a resourceful mommy or daddy with a sewing kit.
Suggestions
ECR4KIDS SOFTZONE Climb and Crawl Activity Play Set
is our pick for this one, because they are indeed huge blocks and they are well tested in the market. A great gift for your child if they are into rough play and you want them to still be safe.
FDP SoftScape Colorful Builder Block Set
is essentially the same thing as the previous suggestion, but why we chose to include this foam block set is simple- the price. You will get twice the amount of blocks for toddlers for practically the same price than you would with ECR4KIDS foam blocks. The reason why we chose the second place for this is because this product has only just recently appeared in the market and it has just a few reviews, and we ourselves rarely buy something that is just freshy new in the market due to the lack of testing by customers.
Wooden Blocks for Toddlers
A plain collection of wooden blocks is undoubtedly one of the best straightforward open-ended toys you can buy. You can use these for children throughout elementary school.
The high-grade wooden pieces are ergonomically built for easy manipulation by a toddler's hands. They snap together quickly for hours of fun construction and repairing.
Pros
Anti allergic properties

- wood is a natural material that doesn't really react with the environment. Thanks to this property it is very safe for children to handle and will not cause any harm even if a child decides to put it in his/her mouth.
Made from natural and renewable materials

- thanks to hundreds of years of research and refining of techniques, wood production is highly understood and regulated. Nowadays growing wood is as straightforward as growing a carrot, though it does take longer to grow a single tree than to grow a carrot, it is still considered as an easily renewable resource.
Practically indestructible by kids

- wood is a hard material and no matter how rough you little ones play they are not going to be able to even slightly deform the wooden blocks even if the child deliberately tries to damage the blocks.
Can also be made at home by a parent who has some background in carpentry

- this is a great pro to the resourceful Do-It-Yourself parent, who has access to at least the basic instruments of carpentry. This is also, if you believe that your child is ready for something like this,  a good way to teach children the fundamentals of woodworking, by getting them a little familiar with some carpentry tools and techniques while also teaching them about safety in a working environment. 
Cons
Wood is a hard material, therefore it can cause damage to a child if children are playing roughly with this toy

- if the size of the wooden blocks is of the large type, then unfortunately the biggest strength of this material is also its biggest weakness, because a child can get hurt when their massive ten story castle falls down and a stray block hits the child's feet, hands or even head. Children are also sometimes engaging in rough play with each other and they sometimes can underestimate their own strength and unintentionally hurt one another while playing with these blocks.
Are loud when they fall down

- again, depending on the size of the wooden blocks it is possible that your neighbours living under you, if you live inside an apartment, might not appreciate the crashing noises when the wooden blocks hit the ground. This might also affect you if you are trying to rest after a long work day, since the crumbling of blocks can be even heard from behind a wall in the other room.
Can damage furniture and other surroundings if the built structure falls down

- because wood is such a hard material it has the potential to not only harm your child when the structure falls over, but to also harm and wreck your tea-table made from glass, or the floor made of tiles or soft laminate, or your clay/porcelain vases, or your 60 inch flat screen TV. Thankfully the blocks themselves will be fine 😁!
Suggestions
Regarding wooden blocks  

Melissa & Doug Wooden Colored Building Blocks Set

is the clear winner, because you get 100 wooden blocks for only 16 dollars and in 9 shapes and 4 colors! There really isn't any seller that can compete with that.

Our second pick goes to  

iPlay iLearn Wooden Building Blocks

, because we ourselves love the natural look of wood and that they come with a little box to store them in. These blocks for toddlers have earned second place, because you get 72 wooden blocks for 30 dollars, so each block is about a third more expensive than the Melissa & Doug option.
Connectagons | Blocks That Connect for Toddlers
Connectagons are brightly colored circles that can be made from various types of materials that children can connect from any point on one circle to another.
Kids exercise spatial thinking skills and master fundamental concepts of equilibrium when making their designs. Connectagons are ideal for children who choose to create free-form artistic constructs rather than architectural or automobile structures.
Pros
Connectagons help to unleash the artistic side in children

- your child is always searching for a canvas to express his/her inner da Vinci. You don't have to sacrifice your beautiful wallpaper or your painted walls anymore! Get your child a gift that allows them to create not only abstract art, but also beautiful sculptures of animals or plants or even alien creatures. Sometimes it's cheaper for you to get your child a single toy than to sacrifice your utensils or even walls in the long run. This is the product that can truly help your child to develop the creativity that they will need in their later years.
Always bring out a good laugh for parents when the children have completed their masterpiece

- you probably remember the time when your little one came to you and pulled on your leg, then with the biggest smile and eyes filled with joy showed you a drawing that they made of mommy or daddy, only for you to look at it and try not to burst out in laughter at the first sight of their artistic masterpiece. Now imagine if this drawing would be in 3D. Perhaps you are interested in the connectagons now?  Just remember to not laugh out loud for too much… you don't want to discourage your little Michelangelo now do you? 😄
Teach children fundamentals of balance

- these blocks for children quite effectively teach them how to to construct some quite impressive structures and art pieces and yet at the same time teach time teach them that balance is an element in building that cannot be ignored if they want their construction to stand and not tip too much to the point of falling.
Cons
Are hard to come by in physical stores

- just like with foam blocks these are a rare toy to come by. However you are more likely to find these blocks for toddlers at a toy store than you would rather find foam blocks there, still rarely do supermarkets sell these on their shelves. These blocks can be easily found and bought on Amazon and on other web shopping platforms and at acceptable prices.
The connecting joints exhibit wear and tear over time

- just like any toy that gets used, overtime toys show some rips, tears or even break down completely. With this toy however the most vulnerable places are the connecting joints, because they experience the biggest stresses from the weight of the construction and also experience eventual joint widening after multiple projects and once this happens, the connectagons will not lock on with each other. 
Suggestions
For the last entry we have chosen  

Brain Flakes 500 Piece Interlocking Plastic Disc Set

. Initially we wanted to choose the wooden connectagons, but then landed with this suggestion, because you simply get 300 more pieces and for a smaller price tag than you would with the wooden alternative. Plus plastic connectagons are more durable regarding wear and tear than the wooden alternative.
Our Top Pick
✨The Big Building Blocks✨ is our top pick. Any part of the product demonstrates that these blocks were meticulously built with toddlers in mind.
Because of their colossal size, the blocks are simple to stack and undo. The big size often protects your child from choking risks because the pieces are not small enough to reach the mouth.
The possibilities with these blocks for your child are limitless- your child can build a race car, a spaceship, a castle, or a fort, since this set can also be used as a fort building kit. This is a toy that your toddlers will return to over and over again.
Also, if you are interested in educational toys and want to know more about them, we are sharing a list of Top 30 Educational Toy Blogs on the entire internet from Feedspot: https://blog.feedspot.com/educational_toys_blogs/
References 
And remember:
Dream Big! Build Big!
Comments (1 Response)
Leave a comment (all fields required)