The Most Comprehensive Guide For Autism Toys Of 2022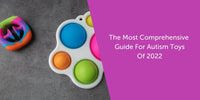 The Most Comprehensive Guide For Autism Toys Of 2022
Autism is a disorder that affects a child's nervous system, growth, and overall development. Autism surely affects kids' social awareness and skills, it can make it quite hard for children to communicate and relate to others. Commonly, children that have this disorder tend to "Live in their own world". Read along to find out how autism toys can help ease these particularities in children.
Fortunately, there are ways to treat this problem, although the ways to go about it may vary a lot depending on how severe the problem is. One of the ways is through playing with toys, specifically, autism toys. Although other treatments also exist. Some of the treatments and general ways of helping, according to the University of Rochester's medical center include:
Learning social skills

Developing cognitive abilities

Learning or Working on improving speech 

Teaching self-care
How can toys help autistic children?
Toys can help in a lot of ways for children on the spectrum. Playing can be very therapeutic and therefore, toys can also offer great help with various health-related problems, such as autism. There are many types of toys that children with this disorder can play with.
However, sensory toys are by far the most popular. Sensory toys for autism are the most popular, because of their ability to stimulate a child's senses. Sensory autism toys offer a chance for the child to have the sensory experience that they want through these soothing toys for autism. 
Autism toys can offer such things as:
Enhanced physical development

Sense of comfort and relaxation

Improved cognitive abilities
Do children with autism need special kinds of toys for autistic kids?
There is no need for toys made specifically for autism, however, there are toys that are better suited for this problem. Toys like the previously mentioned sensory toys are the best toys for autism. There are many types of them as well so you won't be stuck to just a couple of options. 
What types of toys help the most for children with autism?
The most important thing to look out for when looking to buy autism toys is what they are trying to stimulate, enhance and improve. The toys should stimulate a child's senses, cognitive abilities, social skills, and more.
Since autism is a complex disorder, the toys that help with autism have many types. Some of them include sand and slime toys, chew toys, sensory toys, such as sensory mats, and others.
Sensory toys for autism for hyper-sensitive children
Sensory toys for autism that are generally calming are great for this type of autism. If the toy offers a chance to lower their response to external stimuli then it is already good.
One example of this is a toy you might have seen around already - a fidget spinner. This is a great toy that keeps a child's hands occupied and therefore provides a sense of calmness. Since it is just spinning around, a child can just stare into it. It can serve as a kind of calming hypnosis.
When it comes to sensory toys for autism, intended for hyper-sensitive children, chew toys are also good and effective. Chew toys for autism are made from non-toxic materials, therefore they are safe to chew. In the case where a child experiences overwhelming external stimuli, these toys can serve as a great soother and calm your child down.
Sensory toys for autism for hypo-sensitive children
Sensory mats are some of the best sensory toys for autism when it comes to hypo-sensitive children. They are mats that are colorful and have various textures on them. The child can feel them and get the sensory stimulation that he needs. These mats can also be used for playing, so the child can have a stimulating experience whilst playing with these mats.
Sand and slime are also great toys for autism due to them being colorful and squishy, the child can have a stimulating hands-on experience. The bright color offers a visually pleasant feel as well as the consistency of the substance which allows your child to work with his hands and fingers.
This toy is good not only for providing stimuli to hypo-sensitive children, but also helps them improve their fine motor skills. That, in addition to these toys being quite cheap, makes this one of the best sensory toys for autism.
Autism toys that bring out and help to develop social and emotional skills in children
There are many different types of toys for autism, that help to bring out and develop your child's socio-emotional skills. These include board games, plush toys, and others which are displaying emotion in one way or another. These toys can help your child articulate and communicate his feelings more clearly. They can also build your child's empathy and sense of attachment. 
Using these toys the child can also learn about various social situations and get a better understanding of socializing. For example, some of the best toys for autism in regards to learning about social skills are board games. A lot of them encourage collaboration and cooperation, therefore, your child can become more sociable and socially aware.
Best sensory toys for autism
Now it is time to take a look at some of the best sensory toys for autism. There are autism toys for just about every kid's age and type of autism. So what are the best sensory toys for autism? Since you asked, it's time to take a look at some of the best autism toys out there right now.
Toys for autistic 2 year olds
Toys for hyper-sensitive children
Toys for autistic 2 year old kids such as this is one of the best autism toys for toddlers because it is so calming. The toy makes raindrop sounds when it gets shaken and thus provides a soothing experience for a hyper-sensitive child. Autism toys like this one are perfect for sensory development.
Toys for hypo-sensitive children
Toys for autistic toddlers like Klickity are one of the top autism toys out here, due to it being so colorful and stimulating in general. It features colorful buttons with fun colors and clicking sounds as well as various textures. This toy will surely help to stimulate your child. Hypo-sensitive toddlers will love this toy.
Toys for autistic 3 year olds
Toys for hyper-sensitive children
Autism toys for 3 year old children like this one are effective. They provide great anxiety relief and teach them how to deal with the feeling of being overwhelmed without resorting to a screen or something else.
The set comes with 4 fidget tubes of which each will provide a calming and therapeutic effect. All in all, this is one of the best toys for autistic 3 year olds.
Toys for autistic 3 year olds like this one will have a calming effect on your child if they are sensory sensitive. Similar to the previously mentioned toy, this one also reaches the same calming effect through imitating rain. There is just something so soothing about it.
The toy itself is a plastic rain cloud that can be filled up with water and then it will rain. The rain can be stopped with just a touch of a finger. Although the toy can be stimulating, it provides a calming effect at the same time, which will be good for both hyper and hypo-sensitive kids, which is why this ranks among the top sensory toys for autistic toddlers. 
Toys for hypo-sensitive children
If your child is hypo-sensitive, he might find this toy interesting. Due to it being with stimulating and colorful tiles, it's one of the best autism toys. The liquid inside the tiles gets squished around when pressed on, so the child will find this interesting and will want to keep playing on these tiles, because it's just so fascinating.
The tiles are slip-proof and all-around, safe for children to use. There are only bonuses to this product, and if you're looking for some sensory toys for autistic kids, this might be the one.
Trains have always been fascinating to children, why would children with autism be any exception, right? This toy is great for hypo-sensitive children. Just think about a train, the sound it makes, how the whole mechanism works, everything about them is stimulating. 
This toy features not only trains but also a train track and train stations, which will make the experience more fun. By getting this toy, you will ensure that your child has a fun time, while also working on improving his sensitivity to external stimuli. This surely is one of the best autism toys for boys.
Toys for autistic 4 year olds
Toys for hyper-sensitive children
A colorful toy, yet with a calming effect. When looking at toys for autistic 4 year olds this one is great for long car rides or any other situation where a hyper-sensitive child might start to fidget and get increasingly active. The pillow has many buckles, buttons, and more, which can be arranged and rearranged in many ways.
If you sense that your kid is getting fidgety, then it is time to get this toy out and let him play with the buttons and buckles which gives them a chance to occupy their hands and do something with one of these calming toys for autism.
Arent popping sounds satisfying? I think, most would agree. A child which is overly active might find some calming relief with these stress relief toys. The set features 4 tubes, which can be popped, stretched, and connected, which makes this a fun toy for your kids' play time, while also providing a calming effect, which will help take your child's mind off of the overwhelming stimuli from the outside.
Toys for hypo-sensitive children
This toy is stimulating in itself because it allows the child to build things from colorful blocks, but it also can help to develop motor skills, shape recognition, and more. Your child can get creative with this toy, while also receiving a stimulating and rewarding experience by building something cool.
Toys for autistic 5 year olds
Toys for hyper-sensitive children
5 year old autism toys like this one will provide a calming, yet interesting experience for your child. This toy offers a chance for your child to channel his inner anxiety or stress, into fun pin art. The unique feeling of touching the pins will already make your child fall in love with this toy.
The child can use his hands, fingers, and other objects to make 3D pin artwork. Another great thing about this toy is that it leaves no mess, so your child can play and create with it as much as he wants and you won't ever have to clean up.
Toys for autistic 5 year old like these stretchy string bands do wonders for stress relief. They are squishy, twirly, and stretchy, which means that your child can do almost whatever with them and the bands themselves will already provide a great remedy for fidgeting.
The stretchy strings glow in the dark and during the day they offer cool vibrant colors as well. These have overall good reviews and have been widely used as one of the toys for autism, ADHD, and others.
Toys for hypo-sensitive children
Hypo-sensitive children tend to be quite introverted. Though, introversion is also linked to creativity, so with the help of this toy drawing tablet, you can let your child get creative using this tablet which allows to draw anything, using as many colors as the child wants. Toys for autistic preschoolers like this one allows the child to express himself and also experience something stimulating, colorful, and fun.
Toys for autistic 6 year olds
Toys for hyper-sensitive children
In times of anxiety, it is good to hold onto something, therefore these sensory toys for autistic children like this vibrating pillow are good just for that. Although this isn't much of a toy, at least in the classic sense, this pillow can provide a great amount of comfort for children who suffer from hyper-sensitivity.
The pillow vibrates, therefore giving a calming sensation in times of stress. There have been lots of positive reviews for this product which just goes to show that it does what it is supposed to do and reaches the ultimate goal - calmness.
Toys for hypo-sensitive children
One of the most fun autism toys for 6 year old kid! If your child needs some extra stimulation, this toy will be just right. It's the slimy sand that provides for a sensory and tactile playing experience. The child can squish it, mold it and do a lot more things with it. The toy also helps to relieve any stress and it's also good for fine motor skills. 
The toy itself is not expensive and it can serve for a long time because there isn't much that can go wrong. You won't have to spend a lot of money to see your child learn, improve and have fun at the same time.
Toys for autistic 7 year olds
Toys for hyper-sensitive children
Your child is getting increasingly active and you don't know how to deal with it? Well, this portable trampoline might be the answer to it. Hypersensitive kids are often overloaded with stimuli, therefore getting fidgety. Physical activity is a good outlet for built-up inner emotions, that's why it might be a good idea if your child is fidgety to just jump it off on this cool trampoline. Kids love to jump on the trampoline almost always, why not use it for something else besides just pure recreation?
The trampoline itself is portable, it is easy to assemble and disassemble. It can be folded into a compact box, so it won't take up much space. It's compact so you can take it with you if you're going somewhere with your child, for example on a trip.
Hypersensitive children tend to be hyperactive as well, purely because they can't fully process the external stimuli they are experiencing making them fidgety and overly active. That's where this toy comes in. It's a foam pogo jumper that makes a fun squeaky sound which will keep the child engaged but not overly stimulated. This toy as well as the trampoline will help the child get rid of any pent-up emotions through physical exercise. 
It is safe, it's intended for both indoor and outdoor use and since it is made out of foam, it won't damage the floors or anything of that sort. Its safety and other benefits are the main reasons why this is one of the best toys for autistic boys and girls as well.
Toys for hypo-sensitive children
This can be a good toy for a hypo-sensitive children to express themselves. Children with autism tend to be quieter, but they often have a very rich imagination and inner world. That's why this toy is good for hypo-sensitive kids, it lets them express their feelings and get external stimuli by creating pixel art using this toy.
This toy can be connected with Bluetooth to recreate various pictures from your phone, so that means that there will always be something new and interesting to create using this toy.
Toys for autistic 8 year olds
Toys for hyper-sensitive children
This is one of the most interesting autism toys for 8 year old kid. These body socks are great for the times when your child is feeling overwhelmed. The body sock covers all the body giving a deeply soothing sense.
When it comes to sensory toys for autism, this is a good one for relieving anxiety in hypersensitive children. Its been widely used for children with autism, ADHD, and ADD and the reviews have been positive, which just goes to show that this is one of the best toys for autistic kids.
Chew toys for autism are a great way to get rid of any stress. Chew toys give the kids to occupy themselves with something while they have nothing to do. Instead of just fidgeting they can use the chew toy, to get rid of any stress that might have built up. These chew toys are made from non-toxic materials, so they are safe to chew.
Toys for hypo-sensitive children
If your child needs some sensory stimulation, this foam roller will do the trick. It provides deep massage therapy and sensory stimulation. It can help to reenergize the kid as well as help him unwind. This can be used while on a long road trip, right before bed, or any other time. This is a great and easy way to stimulate your child's senses.
Toys for autistic 9 year olds
Toys for hyper-sensitive children
This toy for autism will help to cope with the overwhelming stress that the external stimuli might bring to your child, by giving them something to occupy their mind and hands with. It features buttons with various textures, which can be glided, rolled, flicked, and more.
The toy itself also makes sounds so it keeps the kids engaged. One major upside to this toy is that it's so compact, so it can be carried around anywhere. Your child can keep it at home, but can also take it to school if needed. 
Toys for hypo-sensitive children
A bouncy ball might not sound like much at first, but it can bring a great amount of sensory stimulation to your child. This bouncy ball is textured, therefore it will provide an interesting sensation while bouncing around on it. Besides the pros of sensory stimulation, it also provides them with some exercise and helps improve their balance and coordination.
Toys for autistic 10 year olds
Toys for hyper-sensitive children
Does your child is often having trouble sitting still? Autism toys for 10 year olds like this wobble chair could be the solution. It is designed similarly to the rocking chair. Keeping the same functions as a chair but giving the chance to wobble around a bit in the times when feeling overly active. This chair can be used when doing homework, eating dinner, or just about anything else. 
Toys for hypo-sensitive children
This toy will help your child deal with his emotions and to express them as well. It features 3 magnetic boards and 31 magnetic facial pieces which can all be used to create various faces with varying emotions. It's a good game for children to help to learn to articulate and express their feelings. It's also compact so your child can play with it on the go instead of just at home.
Best socially and emotionally developing toys for autistic children
This socio-emotional enrichment toolbox provides an opportunity for children to learn about their own emotions and helps to recognize them. This improved understanding will help them to better understand themselves as well as control and express their emotions.
A board game like this is a great toy for children with autism struggling with their social skills. It's a new and refreshing take on the well-known dominos game. It features 56 cards all of which have various emotions displayed. The game is played in the same way as dominos, by matching the faces displayed on the cards. 
This toy is great for social and emotional learning because it crystalizes these concepts and skills for children through engaging and fun play. It can also be played cooperatively.
This game is great for learning to socialize. It requires 2-6 players, which all have to "cook a soup" with the given ingredients which are written on little playing cards. If everything matches, everybody wins. This game encourages teamwork and socializing which a lot of kids who suffer from autism need. 
This set of big building blocks by GIGI Bloks is a great toy for learning how to socialize through play. On their own, the blocks already inspire creativity in children due to the blocks not having one predetermined way of assembly, but they can also be great for cooperative play. Multiple children can pitch in and work as a team, therefore improving and solidifying their social and teamworking skills.
What are sensory issues in autistic children?
Sensory issues are an increased or decreased response to external stimuli. According to Autism Speaks, every child can have a different sensory issue and can be sensitive to various things, some of them include:
Sounds

Sights

Smells

Touch

Tastes

Awareness of body position and movement 

Awareness of internal body cues and sensations
To deal with these issues many children resort to various stress-decreasing activities such as fidgeting, repetitive movements, and other compulsive endeavors. They do it just to relieve the stress their suffering from.
How do sensory toys for autism help?
They help the child depending on what their problem is - whether it's hyper-sensitivity or hyposensitivity. For hypersensitive kids, these toys help to calm them down and get rid of the overwhelming feeling they get from all the stimuli they receive from the outside world.
For hypo-sensitive kids, however, the toys help them experience the stimuli they lack. The toys that are meant for hypo-sensitive children are usually textured, have bright colors, etc. They are meant to be stimulating so it compensates for the lack of stimuli they experience in their everyday life.
How playing heals the minds of autistic children?
Playing helps children take their minds off their inner turmoil. Being overloaded with external stimuli surely isn't pleasant and the toys help them take their mind off of it. A hyper-sensitive child playing with toys made for hyper-sensitive children feels the calmness and relief they bring. 
A child who is hypo-sensitive heals by feeling all the things he should be experiencing. Playing with things that stimulate their mind and senses, makes children feel whole.
How are autism toys used in therapy?
The methods and ways that therapists go about this differs a lot from child to child. Each case of autism is unique therefore the therapy methods can also vary. A study that was conducted in 2016 also mentioned that the therapy toys for autism are usually tailored for the needs of the child.
That said, the focus usually is on whether the child is hypo or hyper-sensitive. Of course, with autism there can be other physical problems that come along with it, therefore, Montessori toys are often used. They encourage learning in various ways, they work on things like fine motor skills and others. 
Another method is playing with figurines in the sand, which helps them to learn about social and emotional skills. Children also play with toys that work on the things they lack. If a child seeks sensitivity then that's what the therapist focuses on.
How playing with other children can help children with autism?
Playing with other kids can help greatly. Mainly just by providing social contact with others, therefore, learning how to socialize and understand others. Playing with others will also make the child feel more accepted since children with autism tend to be more on their own.
Cooperative play helps children with autism tremendously in real-time, as well as, in long term by teaching them social, emotional, and teamwork skills.
How can you as a parent help during the playtime of your child?
First, off you should make playtime a regular thing, so it becomes something your child is looking forward to. Try to spend the same amount of time with your child while playing.
Also, allow your child to lead the activities, however, you still need to give them an extra hand whenever they need to so they don't feel too overwhelmed and the fun factor isn't destroyed.
Try to create the "mirror effect" by imitating your child as it will make him feel more comfortable. Also, remember to always be empathetic and provide positive reinforcement.
One size fits all toys for autistic kids
This is a pretty classic fidgeting toy that you might've seen before. But did you know that it can serve as a toy for autism as well? The popping effect is great for both children with hypo-sensitivity and hyper-sensitivity.
To the first, it will provide tactile feelings and sound stimulation, but for the hyper-sensitive it will give something to hold onto when overloaded with stimuli. Although this is ranked among autism toys for kids, it can also be an autism toy for teens, which is why it's so good. 
One size fits all is very true for this toy. Kids of all ages can play with these big building blocks and have fun with them. This is an all-around great toy because it offers so much. It's great for playing on their own, it's great for cooperative play, it's a great LEGO alternative, and there are endless ways of assembly. It helps with kids' motor skills, imagination problem solving, and much more. What more could you ask for, right?
In conclusion
Autism is a disorder that can be quite tough. Even though you can't get rid of it, you can help to minimize its influence. Autism toys are a great option for that, since they combine playing, which comes naturally to all children, in combination with the therapeutic effect that the best toys for autism bring.
There are many types of toys meant for all ages. Although it may seem a bit overwhelming at first, I hope you have a better understanding of autism toys after reading this blog post.
And remember:
Build BIG!
Dream BIG!
Written by: Pauls Paeglis
Comments (1 Response)
Leave a comment (all fields required)