The Best LEGO Alternatives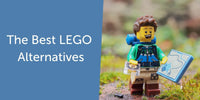 The Best LEGO Alternatives
What is the one kind of toy that every child has at home? Yes, you guessed it right! It's Toy Blocks. If you have a toddler at home, you'd agree with it. Have you ever wondered why every house has a bucket full of building blocks also known as the toy blocks, and why so many people prefer toy-block brands like Lego Mega Bloks, Magblock or other Lego alternatives?
Why have Toy Blocks at all?
Early childhood is the stage where the child steps up the ladder to be naughty and understand his environment and beyond. Now, we cannot let children run wild and explore things, because that would be scary and dangerous! So, what can be done in this scenario? Simple! Toy Blocks!
Providing children with assorted props like Lego toys for toddlers can unlock the child's interest in the science of construction at an early age, hence, developing intellectual and motor skills.
What better dream can a parent have than a child peacefully playing with some learning alongside? Exactly.
It is undeniable that toy blocks are educational means of increasing creative, spatial, and problem-solving skills and every parent prefers having a set of block props to make the child familiar with different structures, shapes, and materials. It also gives parents the time off duty which lets them have some time to themselves. (If you know, you know).
How do toy blocks help children in learning?
Toys Blocks are mostly brick-shaped structures made of different materials such as plastic, rubber, and even cardboard. Their purpose is to attempt to appeal to the child's senses and bring their imaginations true in the form of building blocks.
Because as they say, a healthy mind is a naughty mind!
What better way to encourage it with Lego toys than to make them think logically while enhancing their ability to problem-solving?
Some of the advantages of playing with toy blocks are:
● They help develop the fine motor skills of your child;
● They tend to enhance creativity;
● They could be useful in building children's confidence;
● These toys also help in developing problem-solving skills;
● They can also be used as a medium to enhance self-expression for children who cannot yet make sense of words.
Most commonly used Toy Blocks Today - Lego
The popularity of toy blocks is undeniable but there is one brand of toy blocks that might be the most commonly bought unit of blocks by people, and that is Lego. Everybody wants in on the list of branded toys! Don't they? In the race of marketing and advertising, Lego is a line of toys that can be used by children, as well as, adults. Because let's be honest, who doesn't like to play build-ups no matter what age they are?
The vast range of variety, as well as the popularity of the brand, have made it one of the most famous choices of people when they are looking for toy blocks.
Now, you might have heard so many good things about Lego but is it possible that there is no one drawback of Lego? Seems too good to be true, right?
Let's Scooby-doo the truth about Lego!
Lego products might be the most bought toy blocks for children but they can be really $$$ expensive $$$ and by expensive, we mean left-a-big-hole-in-the-pocket expensive (That is correct). Once you're in that long line at Lego to buy the dream toy block set for your child's happiness, you're cutting on your happiness and on your budget for that matter. But, worry not! Your saviors are here to save your boat from sinking.
Here is the solution to all your problems (not all, of course): a list of Lego substitutes that you can buy for your child.
Lego: Too Good To Be True
Over the years Lego has become the new iPhone: Famous and Expensive - with an image of providing a high-quality educational and creativity-enhancing line of products for children that nobody can resist buying. However, there are always some troubles even in the perfect heaven.
In the early stages of childhood, children's interest in things, especially toys, fades quickly. For this reason, parents feel the responsibility to provide their children with toy sets that are both interesting, educational, as well as, affordable. Now, Lego might fit in the first two categories of being educational and interesting, but it's definitely not the third!
To tell you the truth, toy blocks have a very optimistic reputation for enhancing children's developmental skills, but they too, have an expiration date. Any children or person for that matter would get bored by playing with the same toys and doing the same building and destroying.
Consider this- why should a person spend an over-the-top amount on toys that are going to be of no use, and why not on block sets similar to Lego or maybe better than Lego at affordable prices?
We've cracked the code for you, parents need to look out for cheap Lego alternatives that are safe, interesting, and educational. 
What to look for when buying Lego alternatives?
The market is filled with brick toys like Lego, and of all kinds and it does not make it easy to decide your pick from the variety of toy blocks. If you're not buying Lego products, that does not mean you can just randomly buy any similar to Lego toys available cheap.
We understand parents, and cannot let you buy just anything. As it will directly affect your child's safety and development.
Parents! It is time you grab a pen and paper and note things down that are essential to safeguard before purchasing a Lego alternative toy blocks set (Yup, here goes just another list among the list of boring lists).
Number of the blocks in a set 🧮
The first and foremost thing to include in your checklist is to make sure that there are not just a few pieces of blocks in the set. Usually, the packaging of block toys has several types of buildings and structures made on them to give inspiration to the children to follow the lead.
Now the blocks should be enough in numbers and should be of a considerable size so that the structures portrayed on the outside can be easily made. If that is not the case, it can make the child frustrated and we'll be back to point zero, with a frustrated child and a tiring parent (ugh!).
The complexity level of the block set 🤓
Selecting a set of blocks that is appropriate for a child of your age is a must. It would be foolish to get a set designed for 10-year old for a 5-year-old! The toy blocks' complexity should not be very hard or very easy and in both cases, the child loses interest in it. If you have a toddler who has just started learning how to grab things and is still getting familiar with different shapes and sizes, then you should pick a set for beginners with an easy level.
Similarly, as the age increases, you can also increase the complexity level. Increasing the difficulty level with time will enhance the child's interest gradually and will keep the play happening and enjoyable for the children.
Size of the blocks in a set 🐜
The next thing to consider is the size of the blocks. It is related to the previous point i.e. complexity level and the age of your child. Here's a simple tip; big blocks for small kids and small blocks for big kids!
It is usually considered that the blocks should be bigger in size for toddlers because they cannot yet make sense of joining smaller size of blocks, not to mention the choking hazards. However, older children, prefer smaller size building blocks because the bigger ones are just too easy and dull for them.
A List of Top 10 Lego Alternatives
Now that you have your checklist ready with you, here is a list of another ten things you can accidentally step on: a list of fun Lego alternatives to buy for your children while being within your budget and without compromising on anything.
Enjoy the list and don't forget to mark the checkpoints discussed earlier!
GIGI BLOKS is the best-seller Lego alternative. They are composed of hard, durable cardboard and, like any other paper-based product, may be used as a blank canvas for creation and can be the best alternative of Legos for your children to play with. Now, you might not like people who have hidden aspects, but you're going to love this set.
The blank cardboard blocks can be used in multiple ways including used like large sized Legos and do not limit the activities to only building and making structures.
It provides a chance for parents to do fun activities together with their children. That should be fun, right? Well, we hope so! It has been proven from research that engaging in fun activities with your children will improve your relationship with them, as well as, enhance the sense of achievement in the children. Some of the suggested activities you can plan with your children while using large size Lego alternative GIGI Bloks include: coloring on them with crayons, painting them, or drawing on them with chalk or markers.
The best thing is that they are reusable. What a relief! Once your child is done with one activity, you can just turn the blocks inside out and begin again with a new activity.
The size of these big building blocks is a plus! They can be used by your child to build child-sized structures castles, fortresses, towers, spacecraft, stores, buses, and even let children play different roles in/with their creations in different settings such as tea parties, etc.
GIGI Bloks 100 XXL Building Blocks come with easy-to-follow instructions and access to several different creative design ideas.
 to order the Gigi Bloks 100 XXL Building Blocks for your children and plan your sneaky night with your partner!
Pros

Cons

Family Oriented
Enhances Creativity
Multiple Options
Long term usability
Handy in size
Safe to use for children of any age
This 150-piece learning-themed playset is made up of printed-decorated plastic construction blocks. This Mega Bloks set is not Legos but similar to it to a great extent. It is suitable for children aged 1 to 5.
While playing with these construction blocks, your youngster may learn counting and math by using numbers and pictograms. They may also match things to corresponding forms to learn shapes and colors in a spectrum of hues. Phew! You just saved some bucks from that early schooling budget.
Pros

Cons

Suitable for children aged 1 to 5

Helpful in enhancing mathematics skills
Suitable for learning purposes

Limited Options

More Educational than Entertaining
Not suitable for long-term usability
Requires adult supervision
There are over 200 parts in total, including moving and connecting pieces such as gears, tires, treads, and shafts, as well as an assortment of 6 Circuit Cubes, added to this kit. The various Cubes let you add power, light, motion, and control to your constructions. The kit offers step by-step instructions for constructing 16 distinct cars.
This kit is a Lego competitor and is suitable and teaches pre-teens the fundamentals of mechanical engineering and circuitry while pushing their imagination and creativity via the construction of several vehicles ranging from simple to complicated.
Circuit Cubes kits, designed by STEM instructors, can make excellent gifts for creative, inquisitive children who like building and aspire to more advanced projects.
Pros

Cons

A great option for children interested in cars

Very complex

Not suitable for children aged 0-8
Limited car options

 
This kit may be the ideal educational building blocks Lego like replacement toy for your kids. This magnetic construction play kit is composed of odorless, environmentally safe PP plastic. It has been particularly built to endure rough play and long-term use.
It not only offers creative ideas for your children to improve their capacity to differentiate colors, but also increases their creativity and imagination, and builds their brain thinking ability.
This toy set may be a good educational tool for youngsters as well as a terrific stress release for adults and at the same time, this similar to Lego toys kit can also be an excellent play set for establishing a great bond (pun intended) with your children.
Pros

Cons

Educational toy blocks
Long term usability
Magnetic building

Not suitable for all ages
This 100th Anniversary Tin, inspired by one of the early LINCOLN LOGS structures, the Meeting House, will stir memories in older generations while bringing joy to youngsters. The handbook includes three construction ideas, a big tower, two little cottages with a bonfire, and a huge cabin, and children can use these directions as a starting point or mix and match to create their own constructions. The pieces are not Lego similar, but are great building blocks to enhance child's creativity.
This alternative includes different sized Legos alike and the set's collectible tin can hold all of the components. The features simplify clean-up by allowing parents to store everything in one container, keeping living rooms and children's play areas tidy and orderly. After playtime, the covered tin may be stored for safekeeping.
Pros

Cons

Enhances complex building
Improve problem-solving

 May not be preferred by children due to the old vibe
Limited options to build up
Not suitable for long-term usability
Because your child deserves a more productive hobby than video games, phones, and tablets, these Engineering Blocks are designed to help your child develop his/her science, technology, engineering, and math abilities. You may push your children to create imaginative creations such as trucks, transformers, helicopters, robots, and much more. For boys and girls aged 3 to 6 years and older, this kit is meant to encourage your child's creativity as they grow.
STEM Engineering blocks are machine washable and come with their own transportable storage tub. Each package also comes with a special 80-page step-by-step instructional eBook with 12 various toy designs for beginner, intermediate, and advanced levels, making it one of the best Lego alternatives out there!
Pros

Cons

Enhance learning skills
Great for understanding complex building
Productive activity Reusable

 May be complex for your child
Not for all kinds of children
This Plus-Plus open playset allows youngsters to engage in free exploratory play while also encouraging fine motor skills, logic, creativity, and imagination without the use of screens. Half engineering, part art, a little math, and a lot of fun! (How cool is that?)
Also, this open play kit contains 3,600 basic mix pieces in a reusable storage tub for simple cleanup, as well as an idea guide booklet to stimulate creativity. All these features make it one of the great Lego alternatives for adults as well!
Pros

Cons

 Very small-sized pieces
May be complex for children
These building block puzzle toys and button buckle toys bring out the creative skills of children at school and help them in exploring their creativity through play and experimentation. They can be very useful for children to put down their phones and to have great fun in the garden or backyard of your home when there is a party of grown-ups going on in the house.
They can also be useful in teaching the children how to help each other and to make their own name gifts for birthday or Christmas gifts. You can buy Lego alternative as a gift for your kid and help them learn!
Pros

Cons

Quality activities
Enhances development
Helps in learning

 Limited options
May be dull for some children
MagnetBlox is a life-size construction toy that allows youngsters to express themselves by creating and constructing their own games. Who would not want their children to play with toys that encourage them to be creative, right? And MagnetBlox allows children to apply practical skills and real-world applications while learning and having safe and responsible fun.
Communication and social skills and norms, patience and tenacity, collaboration, and a sense of belonging with a sense of giving and taking are some of the key benefits of active play, and MagnetBlox brings youngsters together to work as a group. This building blocks set can be the best Legos for toddlers as a substitute to play safely with.
Pros

Cons

Easy to use
Safe to use for toddlers
Helps in developing skills

 Not suitable for long-term usability
For the limited age group
This kit is for youngsters aged 8 and above, and it contains 76 elements that may be used to create over 500 experiments. Snap wires, slide switches, resistors, an FM radio module, and a 7-segment LED display are included in this package, which allows your child to do a variety of real-life experiments such as a digital voice recorder, AM radio, digitally tuned FM radio, AC generator, screaming fan, whistle switch, and more!
Pros

Cons

A wide range of build-up options
Advanced technology used

 May be complex for some children
Not suitable for all ages
Require parental supervision
Precautions
Precautions are always better than the treatment! No matter what alternative you choose, make sure that it is suitable for your children and their needs (and your needs of course) and not what is famous in the market.
A few precautions to take to save yourself a visit to ER are:
● Always keep an eye on those naughty devils while playing, it can cause several choking hazards if your child is still in the teething stage.
● Do not buy low-quality plastic products as they can be dangerous to play with and may result in injuries.
● Stop being lazy and read those instructions before letting your children play with the blocks.
Bottom Line
After listing down the 10 best alternatives for Lego for you, don't be a killjoy and decide on a set so you can finally get some time alone in peace. Nobody asked us, but here is our pick anyway! All the mentioned alternatives had some pros and cons, some might be more suitable for your child's age whereas, others might be suitable for other aged children.
We believe that the GIGI Bloks 100 XXL Building Blocks is the best alternative to Lego of all time because it has everything that building blocks are supposed to have and so much more!
It will allow your children to play together and think out of their box on a broader level while implementing their imaginations in reality rather than only making small block structures. So what are you waiting for? Click here and get your children the BIGGEST FUN they have ever had and let them:
Dream BIG!
Build BIG!