The Best Indoor Playhouses for Kids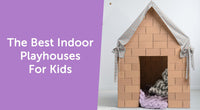 The Best Indoor Playhouses for Kids
Are you looking for the best indoor playhouses for kids because you are worried about the safety and health of your children in this covidy situation the world is still facing? You do not want your kids to go outside unnecessarily but still want them to learn and grow the best under your own supervision. Well, look no more! We have got the list of the top indoor playhouses for kids. 
Games and plays, no matter what kind, have always been of great help in grooming children's physical and mental abilities. And if we talk about indoor playhouses, only a few toys are as exciting as a kid's playhouse as it would be doing multiple roles for your kid whether he/she uses it as a pretend house, a clubhouse, or a secret hideaway to explore and seek into the world of imagination.
"Necessity may be the mother of invention, but play is certainly the father."

~ Roger von Oech
Children learn best when they rely on their own imagination and nothing can provoke their creativity better than indoor playhouses allowing them to work on their strengths and flexibility and developing them into strong and healthy lads. 
"Play is not a break from learning. It is endless, delightful, deep, engaging, practical learning. It's the doorway into the child's heart!"

~ Vince Gowmon
Why is an Indoor Playhouse for Kids a Great Idea? 
Whether it is an outdoor playhouse or an indoor playhouse, it can always remain a kind of a little investment for the children as they can play out of it for years.  
But if you are a parent, right now you would love to get an indoor playhouse for your kids to secure their  learning under the safest conditions when the Covid pandemic is still on loose.  
It is not like indoor playhouses would have less impact on your children's learning abilities, instead, they would do more because not only your child will get the freedom to seek and develop his creativity in a secure and safe environment but they will also remain under your gaze while interacting and sharing with parents, siblings and friends help in developing and  improving they're language skills. 
What Should You Keep in Mind When Choosing an Indoor Playhouse for Kids?
You get many options while choosing an indoor playhouse for kids. There are a lot of factors that can contribute to deciding where to buy indoor playhouses for kids and which playhouse to choose for your little ones including the availability of space where you store it and how many children are going to play with it, or rather… in it! 
Great indoor playhouses for kids are available in different shapes, sizes (either a small playhouse for kids or a large playhouse for kids), a variety of materials, and in a range of prices from low to high to choose from according to your suitability.  
While you are going to buy a playhouse for your kid, there are certain things that you should keep in mind before making the purchase. 
Size 
Before selecting an indoor playhouse, you must make sure how much space you have available at your home. Select one with a size that can be easily adjusted in the available space while your kid can roam around the structure freely. 
Also, if you have more than one kid in your house or maybe the friends of your child are coming over to play together, take it under consideration that the playhouse should be big enough to accommodate siblings and friends. 
Safety 
Now, we know that playhouses can be designed for indoor and outdoor use. But if you are looking for an indoor playhouse for kids, be sure to get one and set it up right according to the directions to keep everyone safe inside the house. 
Also, take note of the  manufacturer's given instructions about the age limit and development stage to understand whether the product is appropriate for your kid. 
Material 
This is very important to note while getting a playhouse for your kid that it should be made of appropriate quality. You can easily find  playhouses made of high-quality plastic and wood. Wood is mostly more expensive than plastic but both have their pros and cons. 
Keeping your budget in mind you can either purchase a high-quality playhouse or a cheaper one, just make sure to buy one with standard durability. 
Ease of Cleaning 
You purchase a playhouse and its design is made in such a way that it is impossible for an elder to look or scrabble around in, so naturally after a while it would become a mess. Therefore it is also important to look for a playhouse with more windows, open space, and less intricate design so it would be easier to clean after your kids are done playing. 
Storage 
When choosing an indoor playhouse for kids you should also take into consideration where are you going to store the playhouse in case you need to move things around or if your child no longer is interested in the playhouse, but you know that you have another youngster coming your way, and you know that he/she would love to have a playhouse when they reach the appropriate age.
This means that you have to be aware of how much available space you have in your garage, storage room/closet or do you have the possibility to disassemble the playhouse and put it in a corner of a room compactly.
Appearance 
The outlook of a playhouse does matter  depending on the interests and likes of your kid. Make sure to choose a playhouse made of that particular theme your kid would love to see and be attracted to it automatically.
Alternatively you can get your kid a playhouse that is completely open in it's design, in other words it's design is open to your child's own imagination.
Special Features
Playhouses have included many skill-building features to encourage the power of imagination of your child. Although a simply designed playhouse would be enough to  trigger the creative qualities in kids, playhouses that include special features like climbers, kitchenettes, and even play phones can activate additional skill sets and help in developing important social and gross motor skills in children. 
Age 
Of course, age is a big factor that can help you in deciding to get a playhouse for your child. Playhouses are  designed for children of different age groups. So, if you do not consider the age of your child while purchasing a playhouse, you might end up wasting your money as your kid will not be able to use the playhouse simply because it is not appropriate for his/her age group.
Cost 
It is the main thing that you should keep in mind while going to get a playhouse.  Check your budget first before buying as you do not want to spend a lot of money on a thing that can lose its importance over time. So, make sure that you buy an indoor playhouse that will meet the most important criteria that we mentioned above for you. 
 The industry standard price for indoor playhouses is usually around

200 USD

.
Keep in mind that there will be playhouses that seem to be very expensive but that don't necessarily have any more intrinsic value than the ones that are of standard price. There will also be playhouses that  will be very cheap and they can seem to be like a great bargain, but these playhouses (just like any other product) usually are made of bad quality materials and/or have some sort of a design flaw that gives them the "low shelf" status.
Our Picks for the Top 10 Indoor Playhouses for Kids
We have made a list of the top 10 indoor playhouses for kids to choose between, ensuring that they make up with all the necessary requirements including safety, durability, well-designed with all the important features, and providing skill-building value to the kids.  
If your toddler has an interest in building and creating shapes of their own then a  cardboard indoor playhouse is the best option for your child to  help them use their creativity with a lot of freedom. Unlike the already made playhouses, these  big building blocks will provide many options for your kids to build their own  playhouse, fort, castle, or tower. 
These sets can cover single, double and triangle unit blocks with roof beams and fabric for the rooftop cover which would be very exciting for your kid when he/she will both have fun and learn throughout the process of building.  
This cedar wooden playhouse is best for  fun for the whole family. It can be placed both indoors and outdoors and has wide windows to make it more spacious and breezy. The insides have got fun accessories for your kids including a stove, play sink, and cordless phone to play with. With the easy assembly, you can provide your kid with a fun playhouse for both hot summers and breezy winters. 
This large-sized hand-embroidered playhouse is made of 100 percent weight cotton and will easily accommodate your young child along with his/her friends. It has got appliqued design on all of its four sides with a door featured on either side of the playhouse to  encourage more creativity in design. 
You can even personalize it to make it special for your kid by using her/his favorite lines from their favorite space movies or dialogues of their favorite astronauts to write down on it and making it more inspirational for your kid. 
This small indoor playhouse for kids is just the right one for your little ones to make their dream of going to a teepee come true. The colors are so fresh and soothing and give extra liveliness when combined with contrasting paint from mustard to beige. 
This playhouse is made of standard cotton giving a  100 percent guarantee of safety for your child. For a relatively low price, this playhouse would prove the best investment for your kid's source of enjoyment and learning while adding a stylish look to the room as well. 
This beautiful motherly timeless crib has got something special to offer for your kid. This is the  best indoor playhouse for toddlers and babies. This crib is specially designed to grow with your baby from infant stages to toddler stages while giving the benefit of converting it from a crib into a daybed, a full-sized bed with a headboard, a toddler bed, and finally into a magical playhouse. 
This playhouse for kids is made up of pinewood, it is available in two different colors to choose from according to the design of your nursery.
This Frozen-themed playhouse is big enough to occupy 4 to 5 kids at the same time. The intricate design of the castle and the color combinations will only add the extra push to your kid's imagination. 
This solid wood-made playhouse has got serving windows with a canvas awning and plastic roof spires designed to show off the beauty of Arendelle castle. 
It also has 2 chalkboard panels on the backside to let your kid practice drawing Olaf or writing down the lyrics of "Let it go", a perfect source of making your child's imagination run wild.
This little beautiful medieval castle playhouse is a  perfect indoor playhouse for your 3 year old. It is made of 100 percent cotton with an aluminum frame suitable for the safety of your kids. The best part is that it is perfectly washable so you can always make it as new and fresh as you bought it so your child could use it again.  
This construction fort building kit contains 30 solid balls and 56 sticks making 86-piece magic to allow your kids to build forts of different shapes and sizes. This fort is made with solid and premium plastic and is extremely durable. It can be used by both little girls and boys to build forts, houses, rockets, igloos, princess castles, tunnels, and toy tents. It is the best toy to give to your child to help him/her use their own imagination and grow into a more creative person. 
This polyester-made ball pit playhouse is so  vibrant and cool that it will be a perfect product to keep your kid busy for hours. It is both lightweight and ultra-durable and you can even customize it with different maze combinations.
 It is also big enough to entertain both parents and children, therefore it has the potential of helping in growing the parent-child interrelation. It can be easily assembled and stored and the entire set is designed in a way that it will pop up and open in just a blink of an eye. 
This indoor climb and slide playhouse provides a comfortable space for your kid to play hide and seek, read books and sit there and play games. You can also use the extra space as a toy storage room. All of its elements are  designed for toddlers so it is perfectly safe for your little ones. The sliding swing will help your kid to grow their motor skills quickly and efficiently.  This playhouse for kids is highly affordable and it will make your kids enjoy their best by cultivating their imagination and creativity. 
In conclusion
There you go! You have got all the basic guidelines for choosing the best indoor playhouses for children. But if you are interested in our top pick, then we highly advise you to go for the  GIGI Bloks House set,  because this  playhouse set is the pinnacle for a child's imagination- your child has 2 ways of building and structuring their playhouse, and if they get bored of the playhouse, then they have the possibility to build anything else they want, because these are essentially  real-size building blocks. Also this indoor playhouse is in the "very acceptable" price range and it is made from cardboard, so if, or rather when, everything comes toppling down, you can be rest assured that your child will be safe.
So why delay? Select the perfect playhouse for your kid today,  order the best indoor playhouse now and give your kid a magical surprise!
"Children more than ever, need opportunities to be in their bodies in the world – jumping rope, bicycling, stream hopping, and fort building. It's this engagement between limbs of the body and bones of the earth where true balance and centeredness emerge."

~ David Sobel

 

 

And remember:
Dream BIG!
Build BIG!
Leave a comment (all fields required)