Review: GIGI Bloks – the perfect gift for twins or siblings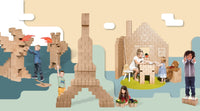 I don't very often do reviews on my blog anymore. They take a lot of time to put together and often the things I'm asked to review don't fill me with enough joy (yes, you can apply the Marie Kondo decluttering technique to blogging just as easily as you can to your home!). To tempt me to agree to a review, the item has to be pretty amazing.
Then along came GIGI Bloks…
As you know, I have three children – seven-year-old twin boys and a four-year-old girl. The boys play together with Lego, computer games, role play etc. and my daughter tends to play on her own with dolls, teddies, her play kitchen and her Shopkins characters (she is SUPER girlie in her choice of toys). The times that they do all play together is when T2 decides to build a den. He dreams of being an architect, and his dens are huge, intricate playhouses involving six to eight chairs, lots of duvet covers and sheets, some cushions, and lots of books to hold the covers in place. He takes his den building very seriously. So when I received an email from GIGI Bloks asking if I would be interested in checking out their building blocks for a review, I knew it would be a great collaboration.
GIGI Bloks is an innovative company, offering kids a fantastic imaginative toy: cardboard bricks that allow them to create their own walls, forts, houses, dens – whatever they want to build!
We were sent a large box of their GIGI Bloks (usually priced at 59.95€) to review.
The kids were SO excited to receive the large box. When we opened it we found a stack of flat packed cardboard bricks. They were very easy to turn into bricks, and the boys and I sat down and folded them all very easily together (yes, even seven-year-olds could do it).
Once we had a gigantic stack of cardboard bricks, the kids went to work. They built the lemonade stand that they'd seen on the box (which also doubled up as a stage for a puppet show!), then had the confidence to go on building towers and walls and dens and forts. I left them to it – they happily played together all afternoon without asking for any help. It's very rare to find a toy the three of them can enjoy together so it was a real treat for me. This is such a perfect gift if you're looking for something for a group of siblings of different ages to play with (or for twins or triplets to encourage them to work together).
The next morning, my kids all got up at 5.30am, as usual. Our bedroom is next to the living room and someone usually makes their way in to me to wake me up and ask for something. Only they didn't. They all gravitated into the living room and built some more stuff with the blocks together before breakfast. This went on for days! Seriously!
Top Tip: Get the kids to build the blocks into a wall or a tower when they're finished playing with them as this takes up a lot less room than a pile of bricks strewn across the floor. They really don't take up a lot of space when they've been built into something tall and you can stand them in the corner of the room out of the way.
A few days after receiving the bricks, we had a two-year-old friend come to stay. She had the most fun knocking down the towers and then watching the bigger kids build them up again so she could knock them down again.
I'm amazed at how a simple gift like this is bringing together kids of all ages through play. It gets them involved in decision making, negotiating, in planning, in physically arranging the blocks – I can see it is developing so many new skills.
It's an educational toy, but it feels real to the kids. The cardboard bricks are so solid and even my three heavy-handed monkeys haven't broken or damaged any of them (even on the odd occasions when the build wasn't going their way and they got stroppy and threw some bricks around) – they're seriously sturdy! The bricks easily lock into place and there are single and double sized bricks which allows them to create whatever they want.
GIGI Bloks can be shipped anywhere around the world. The pack we received (Giant 100 XXL Building Blocks 59.95€) would usually cost around 20€ for postage to ship to Australia. To ship to the UK, it is usually about 9€ and to the US it is about 14€. They also have a number of distributors in different countries that offer GIGI Bloks – so you may find a distributor more local to you offering cheaper shipping.
The verdict: GIGI Bloks is an awesome concept. My kids LOVE the product and have even asked me if I might consider buying more packs of it so they could build a real house to live and sleep in together.
*I was sent a box of GIGI Bloks to review. All opinions are my own.
Story from: https://talesofatwinmum.com/
Leave a comment (all fields required)