Review – GIGI Bloks Giant Building Blocks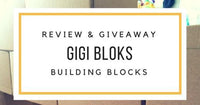 For Christmas one of the biggest hits of the gifts for our boys was GIGI Bloks Giant Building Blocks. My children have loved playing with these oversized, cardboard, building blocks for the past 2 months.
GIGI Bloks Giant Building Blocks are a set of 100 XXL flat packed cardboard boxes which are simple to put together. To fold all 100 does take time (about 1 minute per block) but as there's no waiting for glue to dry or sticking tape on, you can build straight away. I started after finishing some quick chores while the boys were at preschool, but still had a big pile left when it was time to go and pick them up again for the end of the morning session.
The GIGI Bloks, when constructed, look like cardboard versions of traditional plastic building blocks. The pack has both single and double size blocks which make it simple to create any structure. I built a playhouse, with a window, and Noah immediately grabbed some cushions to put inside so he could be "comfy cosy".
Building with GIGI is really easy and fun. The blocks slot on top of each other and make a solid construction. They are double lined, because of the way they are folded, and so therefore quite sturdy. You couldn't stand on them, because they're made of cardboard, but still; I think they're pretty darn ace! Check out this instagram to see how easily the blocks are put together.
We've been playing with ours since Christmas and they do look crumpled, but still function brilliantly well. They are made from recycled cardboard. If you need to they can be easily flattened and packed away. Alternatively you can use them as storage for toys or a nightstand. They encourage teamwork, and creative thinking, as well as hand eye coordination to get the constructions built.
The GIGI Bloks are intended for age 3+ (or so it says on the box), but Noah at 2 has thoroughly enjoyed building and piling up the blocks. I do see that James (aged 4.5) has appreciated the different models that can be built, and he has more vision than Noah. Currently our blocks are "Gotham City" and stand in one corner of the living room as towers. I do like that the cardboard blocks looks good as it is, or it can be drawn on to suit the construction. The only limit to what can be built is the size of the room and the height of the maker, I suppose. I can't wait to see what will be created over the next few months; will there be fortresses, dragons, cats, or even a rocket?
The GIGI Bloks Giant Building Blocks XXL (100) have an RRP of €59.95 (currently £51.34) and are created in Latvia. If you already own these super cool building blocks, then share your creations on social media using the hashtag #GIGIBuild to inspire others.
Comments (2 Responses)
Leave a comment (all fields required)