Psychologist Ina Grasmane About GIGI Bloks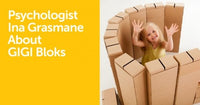 "A human mind spends a lot of time while trying to figure out the answer to the question – Who am I ? What must I do to enjoy life to it's fullest ? Some of us feel like we're missing something and as if life is passing us by. Some of us have lost our most valued ability. The ability to create on this earth a place for themselves.
The same questions are asked by our kids…, to understand, who am I, for kids is as important as to us adults. Kids search for answers by creating. Creating their DIY house, ship, castle or garden. And they will find themselves in this World… If you let them…
By playing the creating game kids find themselves, they find their place on this earth. That is how they study it, learn about it and understand how and why it exists.  Let us give our kids a chance to build. A chance to build a model house today for courage and a vision when building a real one in the future. When letting a young mind express it self it receives confirmation that it's vision and opinion matters to the world.
This toy is a great opportunity to grant your child not a material gift but a chance to build his real sized fantasies. Build it his way, color it his way and maybe set a vision for something he will once build and live in.  Create a life that will be his own… Nowadays kids really miss their own creative space. Kids see that what we no longer can…Let us give them a chance so they show it to us."
Psychologist Ina Grasmane
Leave a comment (all fields required)