How To Teach Kids About Adult Life With The Help Of Blocks?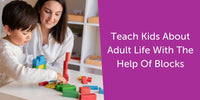 Building blocks are a popular children's educational toy. It is not only a fun way to spend time together, but it also teaches your child valuable life skills that he will need as an adult. Do you know how this toy can benefit your child?
Most parents believe they are doing enough to prepare their children for adulthood. According to  statistics, 97% of parents help their children become more independent. They do so in a variety of ways:
86% allow their children to make more decisions on their own;

74% encourage their children to handle things on their own;

65% no longer do things for their children that they can do on their own.
When the time comes for their young to leave the nest, parents begin to worry about their children's overall level of preparedness to live independently. As it turns out, they are unaware that their children may be unprepared to manage their lives and challenges. Are there any effective ways to prepare a child for adulthood in the early years?
How do building blocks help a child learn about adult life?
Many parents consider playing games with their children unnecessary. Moreover, almost one-third of families spend less than five hours a week together. Many people find it difficult to find time to play with their kids due to many reasons. For example, their hectic schedules, jobs, or even gadgets.
Parents work hard to meet their families' basic needs, bringing happiness and comfort. As a result, the role of the joint game is frequently underestimated and it is a great loss!
What is the significance of playing educational games with children?
Happiness-

  study of the game phenomenon discovered a direct link between joint play and family happiness. Nine out of ten families who spend at least five hours per week playing together report feeling happy;

Relaxation-  a

lmost all of the children in the study stated that the game makes them happy and helps them relax after a long day at school;

Improved learning-

  they also stated that they learn best when the learning process reminds them of a game. Thus, the building game facilitates the child's learning and development, laying the groundwork for future success in adulthood;

Improved communication- 

 at the same time, family games make adults happier. A collaborative game allows parents to better get to know their child, have a positive impact on their well-being, help them relax more, improve communication, and build strong, trusting relationships in the family.
How can building blocks help you in life?
Constructing is a hobby shared by both children and adults. Building blocks are very popular, because they have probably the highest benefits of educational toys out there, and they also have different types of parts of varying sizes. They can be used to develop a wide range of skills. 
Mobility
It has been scientifically proven that building develops hand mobility. To assemble a structure, a child must connect small/big parts. It also helps to improve movement coordination and allows your kid to progress from simple figures to exciting role-playing games.
Speech development
Hand motility is linked to the development of speech. These two brain centres are located close to each other. The child is always passionate about learning about new subjects. While building the structure together with their parents, the children learn new words, for example, the names of sizes, colours, structures, and their characteristics.
Building blocks can be used in the treatment of speech disorders and autism. Children explain what they do, answer their parents' questions, and use adjectives more frequently while playing with this educational toy.
Logical thinking
Building improves the logical reasoning of a child. He must compose the parts to collect the whole piece of structure. To understand how to collect a holistic subject, one must think about it and imagine it. As a result, building teaches a child how to solve problems when they appear.
Attention and patience
While building a structure, a child will have to persevere through many failures. It is important for you as a parent to explain that it is normal when something does not work from the first attempt.
Begin collecting building blocks again, paying close attention to the instructions, and correcting the incorrectly folded ones. As a result, the child will learn a valuable skill that will come in handy later in life: self-discipline.
Creativity
Because building blocks allow for the use of fantasy, the child's imagination will change as he grows, bringing new ideas to life. When the child learns to build turrets on his own, progress to more complex figures. Allow him to work with his imagination. Combine the sets you have to leave more room for creativity.
Do not forget to ask him about what he is building, for whom, and why. As a result, the child will find it easier to work with his fantasy while performing a variety of tasks, such as writing essays or drawing pictures. If you still have trouble writing, consider using a custom writing reviews service like  Best Writers Online. 
Calculation
The process of building is closely related to the fundamentals of math because the child learns to count the number of parts, divide the whole into parts, and add different numbers of parts. Furthermore, the study found that the preschoolers' enthusiasm for the building has an impact on their subsequent mathematical advancements. The better the child manages the assembly of various types of structures, the better his counting skills.
Roleplay
While constructing houses, garages, and shops, tell the child who will use them and act out small scenes. Soon, he will start telling stories and assigning "characters" to buildings.
In such games, the kid is molded into an independent person. Such games assist him in establishing communication with peers, learning to help, and looking after others.
Conclusion
Plan a family day with a child where you can play and create something entirely new. You will be able to see from your own experience how family play makes everyone happy and allows your child to prepare for adult responsibilities harmoniously.
And as always:
Dream BIG!
Build BIG!
This blog post was written by Frank Hamilton
Frank Hamilton has been working as an editor at essay review service Writing Judge. He is a professional writing expert in such topics as blogging, digital marketing and self-education. He also loves traveling and speaks Spanish, French, German and English.
Comments (1 Response)
Leave a comment (all fields required)