8 Great Benefits of Educational Toys for Kids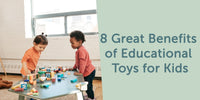 8 Great Benefits of Educational Toys for Kids
Whether you're a teacher or a parent, you want to do what's right for your kids and educate them through the toys they play with. According to the National Association for the Education of Young Children (NAEYC), about 90% ofpreschool children in the US play with toys. Building blocks, for example, are seen as open-ended and able to be used in a variety of ways, making them great for various education scenarios.
This is the perfect opportunity to introduceeducational toys such as building blocks to children to help them develop valuable traits or skills early on. Let's take a look at the value of educational toys to understand how kids can benefit from playing with them at school or home.
1. Educational Toys for Children are Safe for All Ages
The value of using educational toys such as colored blocks lies in the fact that any child can use them safely. They are not choking hazards and are quite sturdy and colorful to look at. 
Younger children can benefit from simply learning about their geometric shapes and how colors match together, while older children can build various original constructions. Getting good building blocks for your child early on can provide them with useful, creative educational toys which they can use for years.
2. They Enhance the Children's Logic and Motor Skills
Educational toys are inherently designed to make children think and work with their hands to get to the bottom of them. This provides an amazing opportunity for them to develop their logical thinking skills. 
Their motor skills will also greatly benefit from educational toys, as many require careful or precise handling to be used properly. As your child uses educational toys for an extended period, their hand-eye coordination will improve and they will make more deliberate, creative and logical decisions.
3. Help Children Bond with Parents and Friends through Cooperation
Children can play in groups and use educational toys to bond, develop communication skills, and learn how to work in a team. Building blocks are handy in this scenario, as children can cooperate and plan to build a castle, a park, or a coffee shop with friends. 
As a parent or a teacher, you can also participate in playing with educational toys to carefully nudge your children into using them as intended. Be careful not to overreach however and allow your children the final say when it comes to decisions related to the play session.
4. They Facilitate the Children's Sense of Accomplishment and Agency
Anyone can admit that building, drawing, or otherwise making something yourself is a rewarding experience. This goes double for young children who are first exposed to educational toys such asbuilding blocks. Giving your children free rein on how to play with the toys and what to build is an exhilarating experience for them. 
If they decide to build a car, a boat, or a house, let them. Encourage their creative tendencies and give them a sense of accomplishment which will help them aim even higher the next time they play.
5. Educational Toys Help Children Spark Interest in Soft and Hard Skills
You can tell which fields and occupations a child is leaning toward through how they interact with educational toys. If a child repeatedly builds a doctor's office or a hospital, they might be interested in medical work, and you can explain some basics to them. 
Children who interact with educational toys will have an opportunity to explore what soft and hard skills are most suited to them. You can encourage them to explore their dreams further by getting them some pictures to use as models for example.
6. Improved Focus, Creativity, and Self-Expression through Play
Despite what we may think about "playing", children take these activities very seriously. By introducing educational toys such as building blocks to them, you can help them harness that focus and channel it toward productive play. 
Their self-expression and imagination will develop significantly if they play with toys designed to educate and facilitate a child's mental growth. Your child is bound to focus more on creating something with building blocks if you give it the freedom to explore at its own pace.
7. Non-Binary Educational Toys Teach Children About Tolerance and Acceptance
Using colorful educational toys with non-binary colors can significantly improve the child's tolerance and acceptance of others. If you accentuate the use of cold colors (blue, green) with boys, and warm colors (red, pink) with girls, this can cause gender acceptance issues. 
According to NAEYC,gender-typed toys and colors can foster attributes that you don't necessarily support. These typically include girls leaning toward a mindset of appearance and attractiveness and boys leaning toward violent and masculine attributes. With educational toys such as colorful building blocks or pens and markers for drawing, this can be avoided entirely.
8. Teach Children Basic STEM through Practical Examples with Toys
If your child is nearing K-12 education, you can use building blocks to introduce basic STEM terms and examples to them through play. Math, chemistry, and physics can all be demonstrated and taught through simple educational toy exercises. 
Using toys to show these principles and examples to your child will help them memorize what you're explaining more closely. Once formal education rolls around, children who've used toys to learn about STEM will have a much easier time grasping more advanced learning materials.
Learning by Playing (Conclusion) 
Playtime can be both a relaxing and educational experience for children regardless of their age, gender, or interests. Remember to act as a facilitator in their experimentation and learning, not as an assistant or instructor. 
Let them soak in the experience at their own pace and be there to support them as needed. Children adjust to new scenarios very easily, and with educational toys like building blocks, they will adopt a learning-by-playing routine fairly quickly.
Bio: Erica Sunarjo is a content writer and academic education advisor atTrustMyPaper and SupremeDissertations. She has extensive experience in writing academic papers, essays, and case studies on the topics of education, professional development, and psychology. Erica spends her free time catching up on digital publications and research to improve her writing.
Image source:https://www.freepik.com/free-photo/children-play-with-toy-designer-floor-children-s-room-two-kids-playing-with-colorful-blocks-kindergarten-educational-games_9277139.htm
https://www.freepik.com/free-photo/non-binary-kid-playing-with-colorful-game-home_11385764.htm
https://www.freepik.com/free-photo/little-girl-playing-with-toys-living-room_12233504.htm 

And remember:
Dream big,
Build big!
Comments (3 Responses)
Leave a comment (all fields required)