How Playing With Building Blocks Can Boost Creativity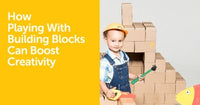 Block play encourages children to match, count, and sort – in other words to use their imagination. Just because kids are little doesn't mean they don't have big ideas! But that you probably already know! :)
According to Charlotte Reznik, PhD, child educational psychologist and associate clinical professor of psychology at UCLA, there are numerous benefits from tapping into child's imagination, such as:
it strengthens bonds between parents and children;
it is a safe way to talk about challenges with friends or school;
it provides the relief from boredom;
it teaches coping skills to deal with fear, low self esteem, loss and other emotions;
it eases of physical symptoms such headaches and stomachaches.
Amazing, right?
Nevertheless, "playing with blocks allows children to make their own design as well as give them the satisfaction of creating something on their own that did not exists before" or in other words, children receive creative stimulation by making something totally on their own! Imagine the feeling, if it is also something big! :) This is why GIGI Bloks giant building blocks, that are light and safe at the same time, is the perfect tool to use. Once they get the feeling of accomplishment, they will naturally want to take their creativity to the next level so continuing to develop their creativity. The sky is the limit as they use their imaginations to build and play!
How you as a parent can help boost creativity?
By providing all the tools needed for the creative process.
To diversify the playing process, you might wanna purchase all or some of the following accessories:
      rubber, plastic, or wooden animals;
      traffic signs;
      vehicles of all kinds;
      rubber, plastic, or wooden people;
      small cubes or other blocks to decorate;
      small doll houses;
      popsicle sticks for signs and fences;
     tongue depressors;
      easter grass;
      pipe cleaners (chenille sticks);
      wooden beads for decoration;
      doll house furniture.
Additionally, there are accessories that can be obtained for free and used while playing with building blocks:
     cardboard pieces for roofs;
     boxes to make into buildings;
     tile, vinyl, or parquetry flooring samples;
     carpet samples;
     pictures of buildings, bridges, cities, farms, etc.;
     strawberry baskets;
     styrofoam trays;
     fabric swatches for tents, curtains, bedspreads;
     thread spools;
     yarn or string for cables or fences;
     film canisters for towers;
     countertop samples;
     wallpaper samples;
     cardboard tubes from paper towels;
     plastic lids;
     foil or cellophane.
By communicating the right way.
If you want to boost your child's creativity at the beginning of play, ask what your child wants to build, help him brainstorming, if necessary, but avoid giving specific  ideas just like that. Ask questions, such as "Do you think it will be big?", "Do you think you should add some colours?", and "Do you want to make a space for a door?" This will encourage your child to continue the thinking process.
Also, child psychologist, author and parenting expert Tamar Chansky, PhD, has stated that "Parents can foster creativity by not using praise about product." For example, instead of saying "That's good," but ask your child questions and comment about the process. Use phrases such as:
"Nice choice"
"Wow, you are really working hard on this!"
"Your ideas are very creative!"
Soon there will also be a more detailed blog post from us about the ways how to get the most of building blocks, where we will share some other amazing ideas how you can help and participate in the process of creativity boosting without interfering too much, so letting the child develop his imagination on his/her own! So step by GIGI Blog time to time! :)
Meanwhile, check out what the psychologist Ina Grasmane says about creativity and how beneficial can be block play -> click here.
Like what you just read? Your next step, become a part of  creativity boosting news – sign up to GIGI weekly inspiration newsletter!
Ready to see more creative ideas?
Sign up here to receive GIGI weekly inspiration e-mails!
*Sources used to make this blog post are so trustworthy and nice:)
Parents Are Important (currently invite only!)
Leave a comment (all fields required)