GIGI is for Summer Parties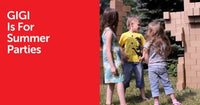 One thing we love about summer that is approaching is...of course - summer parties! Ice-cream, sunny weather, children laughing.. there is some sort of magic about them, isn't there? Of course, kids need also some activities to keep them busy, and we have an idea - let GIGI Bloks take care about this! Just one set of GIGI bloks and they will be playing one their own for hours.
Of course, you can also join the party and organize some little contest with balancing towers, relay-races and building playhouses, dragons, or marvellous ships! It is all up to you, because GIGI is not only creative and fun, but also so DIVERSE!
An additional bonus - if the weather suddenly goes bad, you have assured an activity that can be easily taken inside! :)
Have fun and BUILD BIG!
Leave a comment (all fields required)