The Perfect Gift to Put Under the Christmas Tree! - GIGI Bloks!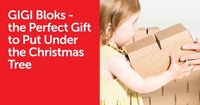 Looking for the perfect Christmas gift? GIGI might be the one! GIGI Bloks is for those with the huge enthusiasm and free flight of thought. Those, who create unseen playhouses, amazing castles, crazy giraffes, and jungle palms. Those who always have a new bright idea and are always ready to embrace an adventure! 
Just grab a package of building blocks for Christmas and allow your kid to create his/her play world from scratch!
There is a reason why kids love GIGI Bloks so much. It's not about the form, the purpose or function of the toy. It's about all those endless possibilities kids can truly build with their own imagination!
And there is no place more colorful, interesting, amazing and fascinating than a kid's mind. GIGI Bloks combine playing, learning and physical activities – kids can draw and write on blocks, play out endless scenarios, change stage design various times and pretend to be who ever they want to be.
Let the creativity flow and fun never end or as we say - go GIGI, go BIG!
So, how big and how many blocks your kid needs? GIGI offers 2 sizes of blocks (XL and XXL) and 4 sizes of packages:
60 giant building blocks package is the very beginning of the amazing world of your imagination.
However, we can show you at least 17 ideas that can be realized with just 30 pieces:
96 big building blocks package give the opportunity to build BIG in smaller rooms. With this package a kid can build a full-size fort in the corner of the room! With all the towers, bastions and bulwark! Or a stately three mast ship or an elephant from the African savanna. A kid can build the world's greatest metropolis or the whole Canadian Arctic archipelago in the middle of the room…the opportunities are endless! 
100 giant building blocks package is for those who love creating seriously BIG castles, ships, cars or dragons faster!
200 giant building blocks package gives a complete freedom. Big enough for kids to build their own small house with a possibility to enter the creation. A set of a two hundred blocks offers endless variations of building possibilities, hours of creative fun, while being the architect of large buildings, towers, animals, cars, ships and more. This is the best choice if you have more than 1 kid and they all want to participate in BUILDING BIG!
By operating with GIGI a child's mind is activated, by motivating kids to make decisions of their own. Deciding on the color, architecture and the direction of his creation. It teaches your child independence, making choices and engages the flow of creative thoughts.
Have fun, build big and let the creativity flow!
Leave a comment (all fields required)