Fort Magic Alternatives You Need To Know About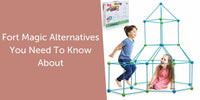 Fort Magic Alternatives You Need To Know About
Every kid needs a toy they can play with. But toys can do much more than simply ensure your children have fun playing with them. Brands like Fort Magic have some of the most amazing creative building toys to help your child enhance their creativity skills. 
Yet over time, even Fort Magic seems to be losing its charm among children. As a result, many parents are looking for better and more interactive  Fort Magic alternatives. So are you also one of those parents looking for better creative toys for your children? If yes, we have just the right alternatives to share with you. 
So continue reading as we explore different alternatives to Fort Magic currently available in the market.      
1. GIGI Bloks Playhouse
The first alternative on the list is  GIGI Bloks Playhouse for children. There is hardly a toddler that does enjoy building forts using blankets, pillows, chairs, and boxes. But this can be very exhaustive for parents as they wash their pillows and blankets every day just to find their kids playing with them again. 
Of course, you cannot and should not stop your children from playing these games. These games help them develop many skills that will last and serve them for a lifetime. Instead, you can choose a better alternative by giving them their DIY playhouse. 
GIGI Bloks has some of the finest and most articulately designed playhouse building blocks for your little ones. With this building block set from GIGI bloks, you need not worry about buying any additional components. All your child's needs are readily available in the set, allowing them to build the house of their dreams and host make-believe tea parties for all. 
Picture belongs to Shumee
2. Shumee
The next Fort Magic alternative up on this list is DIY playhouses from Shumee. Almost every toy you buy for your children is made of plastic these days. So Shumee has come up with something different with its colorful DIY wooden playhouse. These toys are ideal for stimulating the creativity skills of your kid as there are endless ways to build these playhouses. 
The best thing about wooden playhouses from Shumee is these toys are designed to ensure gender neutrality. This ensures your children have the freedom of expression from a very young age which obviously has its benefits in the long run. These DIY playhouses present the ideal combination of pretend play and playhouse building for your little ones. 
The wooden playhouse set will come in twelve safe woodmen pieces. In fact, Shumee goes an extra length to ensure your child's safety, where all the wooden blocks come with well-rounded corners. Your child can assemble these blocks in over ten different ways to build the playhouse that best represents their imagination. 
Besides that, you also get an eco-friendly muslin bag where your children can store their little accessories and furniture. With so many colors and fun accessories available with Shumee wooden playhouses, your children can make the best childhood memories with five furniture pieces and three mini ladders to keep typing interesting for them. 
Picture belongs to Toys 4 U
3. Toys 4 U
If you are looking for a playhouse where your children can play indoors and outdoors, Toys 4 U has the best option for you. Toys 4 U playhouse is similar to the Fort Magic variant, so if you are a Fort Magic fan, you will also love the Toys 4 U variant. Playing with these toys aids in helping your child transform their imagination into a reality with their safe hideout.
Toys 4 U ensures your child has the best experience with a 68-piece playhouse that simulates the structure of a fort. The playhouse further has 44 poles that remain connected with 24 balls which is not something you can find with Fort Magic or other playhouse toys. The unique design also ensures that your child's structure remains sturdy enough even if they climb under or on top of it. 
With Toys 4 U playhouses, your child can play their make-believe games in their personal fort, castle, pirate ship, tent, or rocket. Their imagination is the limit here. All the materials used to build these toys are sourced from BPA-free and no toxic materials. This ensures your child's safety at all times. So add a touch of fun to your child's life with playhouses from Toys 4 U. 
Picture belongs to Play Learn
4. Blackout Sensory Tent From Play Learn
Are you looking for a playhouse tent to enhance your children's creativity? The  blackout sensory tent from Play Learn is exactly what you need. These tents are easy to set up and store, so convenience will not be your concern with them. 
The blackout sensory tent from Play Learn also makes a great addition to  sensory toys for autism & sensory toys. Thus, it is evident these toys are ideally designed to enhance your children's sensory functionalities. But most importantly, these tents come with glow and light objects to create a magical sensory environment for your child.     
Bottom Line 
Parents go to great lengths to keep their children happy and safe. While Fort Magic offers many amazing playhouse toys, there are also many alternatives in the market. Those mentioned above are just a few of the many Fort Magic alternatives you can find in the market. So leverage this information and find the right playhouse toys that help your child learn and have fun simultaneously and if you are more interested in this topic, we also have an in-depth article on  fort building kits and everything you need to know about them.
And as always:
Dream BIG!
Build BIG!
Leave a comment (all fields required)