Best Educational Toys For 6 Year Olds 2022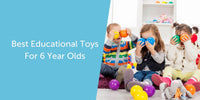 Best Educational Toys For 6 Year Olds 2022
At the age of 6, I wasn't playing with toys as much as I used to before, but now that I'm seeing my little brother having fun with educational toys for 6 year olds I can now see how important play truly is.
The age of 6 is special because your child is about to start school soon, and even though there will be no shortage of education there, it is still important to try to further the educational journey.
Even though it seems your child is getting more grown and sophisticated each day it is important to remember that they are still children, and they are interested in playing. Therefore, educational toys for 6 year olds are still a great option for making sure that your kid continues improving in every way possible before starting school.
What kinds of toys are good for a 6 year old?
At this particular age, the interests of the child are growing more and more. They are interested in various activities. However, there are some types of activities that tend to dominate.
For example, kids this age enjoy a lot of large-muscle activities such as jumping, riding bikes, playing various ball games, and so on. They also like activities that involve fine motor skills such as drawing, cutting, weaving, and others.
This broadening of a child's interests is a good thing, also because it makes it easier to pick out fun learning toys for 6 year olds since your kids' circle of interests is broadening.
Why are educational toys for 6 year olds awesome?
Awesome. That's surely a great word for describing educational toys for 6 year olds. It is so fitting for a lot of reasons.
Firstly, they are so awesome because they encourage learning through play, which in turn makes learning a fun process, which the child wants more of. With the help of the best educational toys for 6 year olds the thought of learning may not even cross your kids' mind since they may perceive it as just playing.
Secondly, the top educational toys for 6 year olds have been proven to be of good quality and long-lasting, so if you have other younger children the toys will serve their purpose greatly.
Top educational toys for 6 year olds
Big building blocks made by GIGI Bloks are one of the best educational toys for 6 year olds in the market. They are cardboard building blocks that will bring great fun to your child. The great thing about them is that they are very universal.
They're good for playing both independently and cooperatively with other kids. They are also suitable for various ages so that means that if you have little kids of varying ages all of the children will find usage for this product.
They are environmentally friendly, high quality,and limitless, what more can you want, right?
Kids at the age of 6 are getting increasingly inquisitive. Therefore, this toy set is appropriate for this age and up. The child can feel the thrilling sense of discovering new things and get to know how rewarding it feels. Educational toys for 6 year olds like this one are great for curious children. 
This set includes 15 experiments that can be conducted at home, some of them include growing a crystal, building an erupting volcano, and much more fun stuff. They are safe, hassle-free and the instructions have been provided (they're easy to follow as well).
Earth science kit was already interesting and this one follows that pattern. This kit is great for sensory stimulation as well as creative play. It features more than 12 experiments that can be done at home.
The kit is great for playing independently as well as with family, friends, and classmates, which is one of the main reasons why this ranks among some of the popular educational toys for 6 year olds.
At first, a plant kit may not seem that educational. Despite that, this is one of the best educational toys for 6 year olds out there right now. It allows your child to get creative with the planting process and sparks their curiosity about botany and plants in general. 
The kit itself includes 3 seed packets, soil, colorful plant markers, a shovel and an instruction booklet among other things. 
Computers and everything around them is the future. With the help of this learning toy, your child can get a head start and build a genuine interest in coding. This particular kit includes an Osmo base which in turn to work requires an iPad. It features physical hands-on blocks which have coding commands written on them.
This game has multiple fun coding puzzles and more. The toy also offers a chance to create some music using pre-provided loops and other musical sounds. Learning toys for 6 year olds like this, offer a chance to learn about critical thinking, creative problem solving, basic programming, listening, pattern recognition, and a lot more!
A great engineering toy for creative kids! Fun learning toys for 6 year olds like this one are great for improving and enhancing your kids' mathematical and engineering skills. It features 148 building parts and 2 tools which also come with a manual including instructions on how to build certain things such as cars, planes, etc. 
If your child is already interested in cars then with the help of this educational toy he will truly have a blast while also improving on some important skills. With this set, it is possible to build at least 5 things, such as a race car, bulldozer, plane, helicopter, and a motorbike. This toy will make for a fun but also educational time for your little one.
Surely one of the great learning toys for 6 year olds over here! This toy set allows your child to dig through a tilling pile to find high quality crystals such as amethyst, tiger's eye, and many others.
The set also features a reusable miners bag for an additional authentic feel as well as fun facts and descriptions about the stones and crystals that are included in the set, which in turn will help your kid to identify each crystal he finds.
Growing things is fun, but how often do you grow crystals, right? This is one of the fun educational toys for 6 year olds that will be fun not only for the child but also interesting for the parents. 
With the help of this kit, you can grow the crystals and watch the process day by day. However, growing is only a part of the fun since the kit includes an LED light-up display on which the grown crystals can be placed.
It is truly a beautiful sight, especially during the late, dark hours. The kit also includes a booklet that offers more info about the growing process and crystals themselves. The kit also includes everything you will need to grow them as well!
Educational toys for 6 year olds like this one are great for exploring the nature around them and building an appreciation for it. This set includes 3 pieces of magnifying glass, 4 binoculars, a hand crank flashlight, a compass, and a hiking backpack to store all the goods in.
These games and toys that the toy set offers will make your child want to spend more time outdoors or at least off the computer which is already a good thing. 
This is one of the most fun educational toys for 6 year olds in this list, for your little upcoming scientist. If your child has expressed an interest in science then this kit will be just right for him.
The set itself includes a microscope with 6 pieces of magnifying glass each with a different level of magnifying, as well as a book titled "The world of the microscope", which will provide extra knowledge about the microscope itself, the process of using it and about the things that can be achieved with the help of it.
What does a 6 year old need for their inner growth
6 year olds need a lot for their inner growth. Especially at this age since their about to start school, their social circle starts to get larger among other things. They need to feel connections with people, that includes their parents as well as their peers.
So, when it comes to educational toys for 6 year olds, it is great if they can be played with together with other kids or family members. That way the child feels a sense of companionship and gets to share his joy and feelings with others. The children this age enjoy being social a lot more so it's well important to cover that factor.
What things do 6 year olds usually enjoy?
6 year olds generally enjoy activities that require them to push themselves a little, when it comes to individual play. They want to show themselves and the people around them that they are growing up, getting biggerand more capable. 
Kids this age also enjoy playing with others a lot. That way the right educational toys for 6 year olds can help them not only to learn but also to have fun experiences with their peers.
What skills do 6 year olds start to master at their age?
Since this is an age where your child is about to start school, the child himself feels that he has to step up to the plate and keep on improving to be ready for the new chapter in their life.
Kids this age usually can speak with lengthier complete sentences, they also have a decent understanding of various basic concepts, they start to see nuance in things which in turn helps them understand the world around them better.
All in all, the things I've mentioned are the ones that the child keeps building on and refining. There are a lot more things to mention, but the age of 6 is a step up from 5 years old, so it would be very lengthy to mention all of them.
What skills does a 6 year old already have?
6 year olds are capable of many things. Some of them include being able to decode and understand unfamiliar words, their attention span is larger also since they can focus on a school task for up to 15 minutes.
A lot of the skills they already have coincide with the skills they're developing because at 6 years old the kids are working on refining already existing skills.
How to find and choose the best educational toys for 6 year olds?
There are a few things to keep in mind when looking for learning toys for 6 year olds. One of them is what you want to achieve with them. There are all types of great learning toys for 6 year olds, so it's a question of what your child is interested in and what you want to improve.
Secondly, it's important to take a look at the toy and assess its usability. Take a look and think about what and how many ways this toy can be used in. It's best to go for a toy that has a lot of ways to use it since it will be more fun for the child and it can be reused later if you have younger kids.
Thirdly, it's the price, that you should pay attention to. The market of educational toys for 6 year olds is filled to the brim with various toys in different price categories and therefore it can get a little confusing. 
What great benefits should learning toys for 6 year olds have?
Learning toys for 6 year olds have a lot of great perks. Most important of course that they provide an educational experience in a fun and engaging way. Other ones include the toy being universal without a specific predetermined way to use them.
That way the toy can let the kids get creative, active and of course, start to learn about various things. The more universal the toy, the more it is possible to extract from it.
Interested in the great benefits of educational toys for kids? Check out our blog post about it!
What skills should educational toys for 6 year olds teach?
To be perfectly honest, there aren't a few specific skills that they should teach. Only in the case if something, in particular, is needed. That's why I previously stated that a universal toy is the best since they offer a varying range of things to learn about.
However, it should be important to learn about basic math concepts, problem-solving, critical thinking, and many others. Of course, you cannot also forget that a good educational toy will also tap into the creative side of your kid which is also valuable.
Don't forget to look out for: 
Of course, you cant forget about the practical things cause there are a lot of little details that lay there. These things include safety, satisfaction with the toy, whether the price is right, and more.
How safe are your selected educational toys for 6 year olds?
Safety is always first, so you should pay close attention to the toy. Look at the materials used in the making of the toy, assess whether it can break easily, what damage could it do and how safe is it overall. You should look out for brittle materials and sharp edges.
Are you getting the most "bang for your buck"?
Since you're spending your hard-earned money on this educational toy you should consider this question. The prices in this particular market can have pretty large differences. Some toys can cost as little as 5$ but the price can also go up to 100$ or more. I recognize that it may be confusing that's why…
We recommend you choose an educational toy that costs

around 70$-90$.

Toys in this price range have continuously proven that they are durable, long-lasting, high quality, and most importantly - FUN!
Will your child enjoy the toy?
This question is just as important as the others since if you buy a toy that your child doesn't enjoy, what good is it right? Scan the market and pick out some toys that you think your child would like. Ask your kid which toys he likes from the ones you picked.
Of course, you have the final say, but it's important to let your child weigh in as well. One thing that I can say is if you pick a great and universal toy, then your child won't grow bored of it since it will offer many new things to do with it each time!
Is your kid going to play with the toy for more than just a few weeks?
Once again we arrive at one of the most important factors that have been mentioned previously. It is important to pick out a toy that offers the most.
The best educational toys for 6 year olds have been known to show great versatility in terms of what they can do, offer and achieve. If your kid is playing with the best educational toys for 6 year olds, it is highly unlikely he will get bored of it quickly.
How do educational toys for 6 year olds differ from the same toys for 5 year olds?
Educational toys for 6 year olds are generally quite different from toys that are made for kids only a year younger. It is simple, but the main difference is that they focus more on the interests and developmental milestones of kids that are in the age that the toys are made for.
6 year olds have different needs than kids that are younger and the manufacturers know that therefore they try to do their best to create a product that is fitting for a certain age.
In conclusion
Although very interesting, the world of educational toys for 6 year olds can be a little hard to understand at first. It may be tough to distinguish which ones are great and which ones aren't, as well as assessing the other factors such as safety and price. Remember that you should go for a versatile toy since it will offer the most in terms of un and overall educational value.
Some of my favorites from the list of the top educational toys for 6 year olds were both of the National Geographic kits since they offer a lot of different experiments to conduct and while it may seem that it can get a little samey, I beg to differ, because multiple conclusions can be drawn from experimenting and they surely can't be drawn with only one attempt.
Another one of my personal favorites is the big building blocks from GIGI Bloks. The reason is that I feel as though they have the most to offer. At first glance, they might not look like a lot, but they truly offer all kinds of educational experiences in different fields, which is why they're so good in my opinion.
After reading this blog post I sincerely hope that you have more clarity on this topic and you know what to look for when in the market for learning toys for 6 year olds.
And remember:
Build BIG!
Dream BIG!
Written by: Pauls Paeglis
Leave a comment (all fields required)