Are Montessori Toys Better?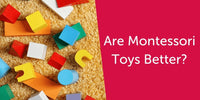 Are Montessori toys better?
Your child learns a lot while playing with Montessori toys. Undesigned play boosts up a kid's mental and physical health. It increases their reasoning skills and teaches them social interactions. But what type of toys are better for your child that can teach something to your child with playing.
The time when you are choosing toys for your child, keep some points in your mind such as excellent quality each with a purpose. Montessori toys are toys that will fulfill your requirements.
What are Montessori toys?
Montessori toys are the toys that  provoke the children to do experiments and that's how to start a phase of learning for children. It develops the skills of the child. Montessori toys are made of high-quality and natural material that attracts the baby's attention and engages them in performing activities. Each toy is made to teach the baby a focused skill. A Montessori toy is based on the principles of Montessori's education. More importantly, Montessori toys are  designed to have ''control of error '''. the child can correct their faults while playing on their own, rather than seeking help from parents or teachers.
Who Invented Montessori toys?
By the end of 1800, an Italian educator and doctor Maria Montessori created the Montessori toys, a variety of colorful wooden objects of different sizes and shapes. Maria Montessori created these toys based on the work of Froebel. Montessori was inspired by essential elements of the natural play activities of children, so she designed her materials around these elements.
Fun Fact: Maria Montessori's portrait was used on the 1000 Italian Lire banknote.
Why are Montessori toys used?
Montessori toys are used because of the following reasons.
Attractive and natural materials
These toys are used to engage the children in activities so their material is made from different mediums to attract the child's attention. Its material provokes the child to do different experiments. Children get to experience different types of toys. Montessori material is made from wood, clay, glass, metal, textile, or rock.
 "The principal quality of my material is to attract the attention of the child and to provoke a permanent reaction within the child." 

Dr. Montessori
Hands-on practical life's experience
Children love to participate in real-life activities. Montessori toys provide them this experience. These toys are real tools, often child-sized. With this Montessori material, they learn many things. 
"Practical life materials are real, everyday tools, often scaled down for little hands and stature's. They teach real-life skills…Through practical life lessons, children develop small and large motor skills, balance, hand-eye coordination, problem-solving, independence, confidence."

Emily Johnsen
Helps in education
Montessori toys are  based on Montessori's educational principles. So, when a child plays, he/she is also learning. It helps to develop senses and also teach child subjects like Math and Science.
"The education of the senses is most important from both these points of view. The development of the senses indeed precedes that of superior intellectual activity and the child between three and seven years is in the period of formation."

Dr. Montessori

"Montessori's sensorial materials provide active, hands-on experience for the senses. In Montessori classrooms, these materials include things like the classic Pink Tower, ten solid wood cubes which vary in size to teach a visual and tactile understanding of dimension."

Emily Johnsen

"The Montessori Method also uses hands-on materials to teach math and science. Through materials such as the classic golden beads, number rods, and spindle boxes, children learn the basics of mathematical and scientific concepts. These concepts, in turn, prepare the child for more advanced lessons"

Emily Johnsen
Regular toys vs Montessori toys
Both types of toys have benefits and some weak points. Let's see both types of toys!
Why Regular toys are better 
Experimentation
Children have a great sense of curiosity and they try to explore everything around them. Toys provide them a safe experience to explore by providing experimentation and exploration
Social development
Regular toys help develop social skills in children. Most of the regular toys need kids to have another kid to play with. While playing with other kids, the kid will face social and emotional signals such as captaincy, sharing anger, and laughter.
Why not
Waste of money
This is the fact that many companies sell their toys under the label of educational toys but actually, these toys have no purpose at all. Regular toys have no specific purpose that can develop a specific skill in a child. They are just making money and have no concern at all if these toys are useful for a child or not.
Toxic material
Regular toys are mostly made of toxic material and, flame retardant chemicals like BPA, Lead, formaldehyde, and PVC 
Why Montessori toys are better
Provides Learning
It's a very major benefit of Montessori toys that provide children with learning while playing. One great thing about this learning is that children learn and correct their mistakes on their own. In this environment, children learn to explore things and do practical things to enhance their abilities.
"Play gives children a chance to practice what they are learning."

Fred Rogers
Develop soft skills
Montessori toys are made on the principle of Montessori education so these toys are made each with a purpose. These toys develop soft skills in children like independence, fairness, adaptability and positivity. These toys are also used to introduce children to other emotional skills.
"Play is our brain's favorite way of learning."

Diane Ackerman
Why not
A little bit Expensive
Montessori toys are a little bit expensive because the material that is used for making toys is very high quality and manufactured in a very unique way.
Benefits of Montessori toys
Healthy 
Montessori toys are made with natural materials like wood. To play with these toys is safe as it contains no harmful material or plastic.
Safe 
These toys are safe to play because they are all made of wood, metal or cotton wand as it contains no toxic material, chemicals, or include batteries. 
Inspire children 
Toys inspire the children to do practical things and provide hands-on experience in real life. All these toys are functional or constructive. These qualities inspire the kids to play with them and develop things and do construction on their own and make their decisions according to their ideas.
Teach independence 
Montessori toys teach children to be independent. With these toys, children learn to make their mistakes correct by themselves rather than depend on the instructor or parent to correct their faults.
"The greatest sign of success for a teacher is to be able to say, "The children are now working as if I did not exist."

''Let the children be free; encourage them; let them run outside when it is raining; let them remove their shoes when they find a puddle of water; and, when the grass of the meadows is damp with dew, let them run on it and trample it with their bare feet; let them rest peacefully when a tree invites them to sleep beneath its shade; let them shout and laugh when the sun wakes them in the morning as it wakes every living creature that divides its day between waking and sleeping''.

Dr. Montessori
Fosters growth
Montessori toys help children's self-motivated growth and development not only physically but also in the Cognitive, Social and Emotional skills.
Evidence from Case Study
A study was conducted by Yau, Che Ming, Wong, Voon ping Thomas Johnsen to know the results of using toys for education, the relations and impact on using toys to teach. In conclusion, they advocate that ''the use of toys have enormous potential in education and can be integrated with various Subject Discipline''
To view the report- click on this link: https://repository.nie.edu.sg/handle/10497/15551
Does anyone even use Montessori toys?
Hundreds of parents are satisfied who bought and used the Montessori toys. They said both the quality, design and educational purpose were amazing and it was worth the money. Their children enjoy a lot of Montessori games. They also said these Montessori toys and games increase their learning abilities and benefit their development.
Many parents give Montessori toys like  GIGI Bloks as Birthday presents to their children. 
 The majority of parents, who gave Montessori toys a shot, say:
"At first we were hesitant to buy these toys, but then we bought them, just to test them out, and after a couple of days when we saw our children actually learning new things and how they loved to play with them- we completely changed our opinion after that."
Great examples of Montessori toys
Many useful toys help the child to grow better. Here we'll discuss some most useful toys.
Does your toddler like building houses using your pillows, blankets, boxes, or chairs? Are you sick and tired of having to wash your pillows and blankets every other day? Do you want to help your toddler discover the sheer fun of building his/her own REAL-SIZE easy DIY HOUSE or HOUSE BED?
Unleash your imagination and  build the most EPIC real-size Houses, Montessori House-Beds, Playhouses, Castles, Forts, Towers, Places, or anything else you like by using  big building blocks. And you don't have to spend money on a single playhouse for your kids
Unlike all those plastic, wooden, or fabric playhouse sets that come with a boring, ready-made house for your kids, the house set will put your kids in the middle of all the building action and allow your baby boy/baby girl to become a part of the fun! These toys are available in different sizes and units.
The Dust! Sweep! Mop! Pretend to Play Set to motivate your child to model independence and use their imagination to have fun!  Each cleaning tool gives them an imagined role and pretends a task to try. This skill-building and confidence-boosting set are designed to strengthen and embolden your child's sense of purpose. Each pretend play tool helps them develop coordination and fine motor skills. This Montessori game is made for encouraging screen-free, hands-on, and open-ended play. These toys are designed for kids to come back to again and again as they discover new possibilities. For more than 30 years, Melissa & Doug has created beautifully designed imagination- and creativity-sparking products that NBC News in the US called "the gold standard in early childhood play."
This balance bike is handmade with wood from fast-growing birch trees, airless tires, an adjustable seat, non-toxic handlebar grips, and  harmless adhesives and paints. The Balance Bike helps toddlers successfully transition to a pedal-powered bike while developing motor skills, physical strength, and an understanding of balance along the way. Children also develop cognitively as they navigate the outside world around them and learn the relationship between cause and effect. With an outstanding-influenced structure, the handlebars, adjustable seat, and low step-through frame encourage good posture and safety while also maximizing comfort.
So… Are Montessori toys better?
In conclusion, we've to say that Montessori toys  are better than regular toys in nearly all aspects. As we see that Montessori toys have many properties that lack the other toys. Montessori toys are simple that are easily understandable and a child starts learning from simple to more complex. For example, you can give two small pieces of the alphabet to the kid. In a short time, the kid will remember the alphabet shape and color and also can differentiate between these two. We also see that these toys are reality-based and perform functions like real tools that are useful in daily life. With such types of toys,  the kid learns to work with particles and knows the relationship of that tool to the work and also learns how to use it properly. With these toys, kids will be able to differentiate reality and fantasy. These toys are made of natural material, that's why it's also a plus point to use Montessori toys. Mostly the toys are made of wood and different sizes and shapes. So, with playing with such toys kid stats learn about the shapes and textures. These toys teach to be independent and Dr. Montessori said ''Through independence, the child learns how to be responsible for caring for themselves, others, and the environment''. So, Montessori toys are better than others because they bring so many positive changes in your child.
And remember:
Dream Big!
Build Big!
Leave a comment (all fields required)