How can I improve my child's concentration?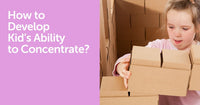 After a summer well spent running around with friends, swimming, making a playhouse, creating warships with building blocks and not doing anything very serious- it could be difficult for a child to return to school/kindergarten, as it means that he/she needs to gather himself/herself and concentrate for the upcoming year of learning. We found so many great tips how to help your kid focus on studies and we decided to share at least some with you too!
Have some other ones in mind? Add in the comments section below!
The one tip by specialists we loved the most is the suggestion to divide big tasks into smaller ones.When the task will be split into small projects, the child will have the feeling of accomplishment along the process and it may motivate him/her to continue.
Moreover, as logical it may seem, parents tend to forget that it is crucial to remove all kinds of distractions. If we as adults can ignore, for instance, a TV, but may have problems with doing that. Moreover, it can be really easy to distract a kid, especially if he/she is doing something he/she doesn't like so much, so this is one of the TOP tips to remember!
Remember to appraise and acknowledge your child's work and accomplishments so encouraging him/her to continue this way and to be motivated to achieve even more. Depending on age, even some small thing can become a huge accomplishment, so be present and practice mindful parenting! :)
Leave a comment (all fields required)