Try building a z-z-z-ZEBRA!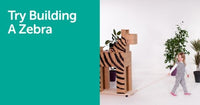 Is zebra white with black stripes or the other way around? This time it doesn't matter, because both - its shape and color depends totally on your child's perspective. 
Challenge him to build a zebra from building blocks and don't forget to keep an eye on it, because did you know that zebra can develop speed of 65 km/h? 
Make the building process even more fun with our happy alphabet song!
Leave a comment (all fields required)