This Week Why Don't You Try Building a Flower?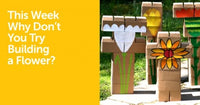 Last weekend in Latvia (which is the country GIGI Bloks comes from:)) we celebrated Mother's Day. With this in mind and the hot weather approaching we have a idea - why don't you try building a flower?
Such a simple construction, while the decoration possibilities are endless. Will it be a delicate spring tulip or a big and beautiful lilac bush? As always, it is all up to you. But isn't it the best thing about GIGI Bloks? These light, ecologically friendly and FUN cardboard building blocks offer you such a diversity! Just dive in the flow of imaginative play and may it take you on a journey you will never forget!
Leave a comment (all fields required)