This Week Try Building a Squirrel!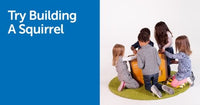 This week we challenge you to try building a squirrel from the big building blocks!
Don't forget the big bushy tale that is not only a decoration - squirrels use it for balance! The tail helps to keep a steady paceas the squirrel leaps across treetops or does a high-wire act on telephone lines. Moreover, squirrels use their tails to protect themselves from sun rays in summer and cold in winter - the big and fuzzy tail helps to keep warm and toast, as it can be wrapped around the little body.
Making sure that the squirrel is well balanced and proportional is quite a responsible job, isn't it?
That's why we have added a little guidance how to build:
Ready? Send us a pic with the end result to connect@gigibloks.com! We will be happy to add it to our #GIGIBuild gallery to inspire the rest of the World!
Leave a comment (all fields required)