This Week Try Building a Bear!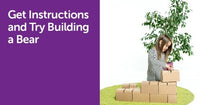 Did you know that Theodore Roosevelt (the 26th President of the United States from 1901 to 1909) had a pet bear while in office? 
Moreover, the name "teddy bear" is derived from his name - Theodore -> Teddy!
You can also have a pet bear - build one from GIGI building blocks! 
All you need is 30 building blocks, and you can add some color of your liking. Bears are the only mammals that can see color, so your bear will probably appreciate it :)
Would you like to be part of GIGI bear challenge?
Send us a photo of the bear you built to connect@gigibloks.com or add the photo on social media with a hashtag #GIGIBuild.
Here is a short instruction to help you build it:
Leave a comment (all fields required)