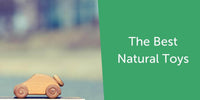 The Best Natural Toys
There are almost unlimited alternatives when it comes to stocking your child's toy box with either natural toys or with toys that are made out of materials other than organic materials. You might just even want to purchase the ideal lovey for your soon-to-be newborn. But if you care about keeping your kids' toys natural and non-toxic, as well as supporting a business that aims to make life easier for other parents, then this right here could be the best place for you. 
Let us start with the basics and hopefully this article will keep you interested long enough to take you to the end of this journey to explore the best natural toys for your kids. 
So What Are Natural Toys?
These kinds of natural or organic toys are created from natural materials. Such materials would include wood, cotton, and cardboard, rather than polyester and other such petroleum-based goods. And you do not have to think about which toxic synthetic chemical is lurking underneath if you do choose natural products for your toddler.
How natural toys are made?
For example wooden toys are usually made from softwoods, which are treated with natural oils to prolong the life of the toys. Of course there is a skillful carpenter involved in the process who actually knows how to process a wooden log into a beautiful toy car, or a baby rattle etc., because there are many sharp, rotating and dangerous hand and power tools involved in the process of making these toys.
Cardboard however is made by grinding wood, that did not meet the criteria to become a plank, and then this ground up mass in combination with water and used paper is turned into a wooden pulp and that however gets placed into a mold and pressed while being heated until it makes a nice cardboard sheet. This sheet is later cut into the desired shape and then packaged.
From What Sorts of Materials Are Natural Toys Made of?
Top natural toys for toddlers seem to be more basic in terms of their forms. But their variety and charming quality will make them quite good for children 's learning and development. Wooden toys come to mind whenever you think about natural materials toys, but they can also be manufactured of cotton, cardboard, rubber, or wool.
Can You Make Fun Natural Toys from Natural Materials at Home?
Well yes, why not? It is absolutely possible to make natural toys for toddlers at home. Even with very little effort you can create amusing toys for your children to play with at home. Plus, when children participate in the creation from their own gadgets, they devote considerable time to these and you could save money as well.
It has been a roller-coaster for the last couple of years. And we cannot really blame our kids for being irritable since they have also been kept at home for far longer than they ever were (even we fall in the same circumstances). So what should the poor parents like you and me do when they would rather not have their kids addicted to devices, but also at the same time the kids can't leave the confines of their own homes. It seems like the best option for the parents to engage their children in such activities as making cheap natural toys from natural materials such as cardboard, and use them to make games like puzzles, dollhouses, etc. 
Plus it is a one hell of a bonding experience for father and son to go in the garage or carpentry and crack open the tool box and together see what is inside and the father can tell what each tool is meant for.
Do Natural Toys Really Help the Planet?
Wooden, cardboard, wool and cotton toys could prove to be an excellent method to contribute to the environment without having to do anything. You can help reduce the quantity of plastic trash by choosing, for example, a wooden toy that is clean, renewable and produced from solid wood.
Top 5 Best Natural Toys
GIGI BLOKS are composed of sturdy, long-lasting cardboard and, just like every other sheet-made product, they are a blank piece of paper for your kid's imagination. GIGI Bloks have proved to manufacture perfect quality natural toys for children. Plus they are one of the most eco-friendliest brands out there!
The best part about these big building blocks, is that they are interlocking, which means that your child can build basically any sort of structure they want, and the structure will not fall apart by placing a single block incorrectly. The principle is a bit like with Lego's, except that these blocks are huge and with GIGI Bloks your child can build something for themselves, not just for their little toy figurines
Your child would also be able to color the blocks, paint them, write on them with chalk, and then turn them inside out. The whole process could be started all over with a new experience. 
This set is composed of 100 percent natural pine wood, non-toxic pigments, and heat processing illustrations in vibrant colors. It has a robust wooden structure, round corners and without any sharp corners, is lighter, and is completely safe. Toy safety requirements ASTM and CPSIA have been met, products that are safe for kids to enjoy with.
The many parts, in combination with the endless construction options, will aid in the development of physical coordination and spatial abilities while having a great time. It really is the ideal Thanksgiving or Christmas present for any youngster.
Your youngster will be able to construct the most spectacular castles, bridges, arches, and towers with these 150 sturdy and safe interchangeable construction blocks. In addition, your tiny inventor may use his or her imagination to construct a new medieval castle nearly every day.
This seems to be an engaging toy that may be enjoyed by the whole group. It is composed of high-quality wood material, with refined and flawless edges on all objects. You may not only enjoy this product at home, but you can also take it outside. Play in nurseries, schools, and wherever else comes to mind. Assist in the development of interpersonal interactions in youngsters. 
Because these are real wood products, they have natural wood grain. Resulting from the natural characteristics of the product, no two wood grains will be identical.
These toys may provide your kids additional fun time while also encouraging them to develop strong motor talents and abilities.
Sensory bin items are the finest alternative for helping children focus since they inspire the subconscious and educate children to be relaxed and expand their concentration from such an early age. These sensory bin toys help a young child concentrate and engage his or her mind.
This collection of 9 animals is composed of rubber wood and MDF and provides hands-on experiential learning. This kid's toy stimulates arithmetic practice while also assisting in the introduction and refinement of form identification, making it an excellent toy for kids. It develops hand-eye coordination, dexterity skills, and confidence at your child's learning stage. 
These fun wooden blocks are constructed of high-quality wood, and the surface of the Lego bricks for handicrafts is completely free of fractured wood, making them trustworthy and strong to use for a long period of time with no risk of skin irritation. Your child may use their imagination to join the blocks together, making various figures, enhancing imagination and creativity while exploring wood blocks, which is highly useful and practical.
This two-pack of wooden building blocks will allow you to share the joy of constructing block sets with family members and friends, limit the amount of time loved playing with electrical gadgets, and provide them with exciting and engaging activities.
Benefits of natural toys
They Are Low in Cost and Provide High Quality 
Even on a tight budget, plain hardwood toys enable you to be environmentally conscious. There are plenty of high-quality wooden toys available that will not be damaged and are considerably more intricate than you might imagine.
These Fun Natural Toys Are Safer for Your Child
Would this toy be safe for your kid? This is generally among the first concerns that immediately springs to mind when purchasing a toy, either for your kid or just as a gift for somebody else's child. Small pieces that readily fall apart provide a choking hazard, and sharp fragments of plastic might cause damage if somehow the toy fractures for whichever reason.
Wooden natural toys, but on the other hand, are generally well-made, hardly include bits that may be readily destroyed by a kid, and are hard to crack even for grownups.
Plus toys that are made from wood and cardboard have anti-allergic properties, so this means, that your little munchkin will not get a runny nose or a nasty rash if they chew on the toy for a little bit.
They are Much Better for the Environment
You can help reduce the quantity of plastic trash by choosing a quality natural toy that is sustainably sourced and produced from certified sources/farms. Many natural toys may be acquired cheaply and afterwards, because they are produced from natural substances, they can easily be reused or recycled or even remade into something else when they have had their day, which is usually a few decades down the coast.
They Can Enhance Early Education of Your Child 
Although plastic toys may have ambient sounds and blinking lights, research shows that natural toys can help youngsters enhance their "oneness with nature" and help them acquire better sense of how different natural materials and their textures feel.
This is due to the fact that several natural toys come in the shape of puzzles and blocks, which require children to establish patterns or motivate them to think out of the box.
They Are Fun to Play with as They Encourage Creativity in Your Child 
Similar to just how cardboard toys may aid throughout the development of scholastic talents, these durable natural toys also aid in the stimulation of creative problem solving and play behaviors in youngsters.
Plain natural toys assist to start up youngsters' imaginations and get them thinking outside the box, whether that's a wooden horse racing through the woods (the backyard) or playing designer supreme with a variety of multicolored cardboard construction blocks.
How Do You Know If the Natural Toy Is Made of Organic Materials? 
When choosing natural toys, take into account the materials itself, the adhesive being used to join the components all together, the sealer and/or color, and any additional elements or parts of the toy, such as metal hooks, cloth strings, etc.
Cardboard and wood
We usually suggest to choose such toys that are made from either high grade cardboard or hardwood, because both cardboard and wood have different tensile strengths for different purposes, and for children's natural toys we suggest only the most durable types of materials.
Glue
Glue can also be used to keep numerous parts of a toy together throughout manufacture, therefore look for toys created using formaldehyde-free glue.
Other Components 
Lastly, there are the other elements  in these great natural toys. Similar to investigating the wood, adhesives, and acrylics, keep in mind that any extra features are free from toxic chemicals and substances like lead, formaldehyde, PVC, and so on. These chemicals are very uncommon when custom made by a master professional capable of making complicated (but long-lasting) joints without any need for glues.
Other than that, make sure that you: 
Check the Toy Company
Before coming to a decision, do some inquiry on the firm you are thinking to purchase from. Many toy businesses provide amazing toys that would be of good quality and can last a long time. The most important thing to look for is a firm that has been in operation for a long period of time and that has all the certificates for sustainable production of materials, for example for wooden materials you have to look for FSC and/or PEFC certificates. Verify to see how long they have been in service and if they have a positive reputation.
Seek Warranties
When ordering a natural toy, make sure to inquire about any assurances or warranties offered by the manufacturer. Some businesses will promise their products to some degree, while others will not. Contacting a firm and speaking with a customer representative is the greatest approach to guarantee that you are buying from a reliable company. This gives you the opportunity to ask any questions you may have regarding the product. If you are satisfied with the company's quality and service, you may order a natural toy and send it right home to your child.
Conclusion
Natural toys for kids are well-known for being more appealing to have around since they are more appealing to the eye and rarely contain sharp edges.
You are less able to spot fun natural toys in homes these days, because many times, these toys don't have appealing patterns and vibrant colors or any interesting features, however we truly believe that there are some great examples of natural toys for kids out there… you just have to know where to look for them :)
And as always-
Dream BIG!
Build BIG!
Comments (1 Response)
Leave a comment (all fields required)