The Best Educational Blocks for Kids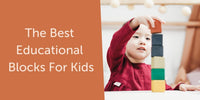 The Best Educational Blocks for Kids
Well, wouldn't it be just the best if you could make your toddlers learn something at an early age while they are playing with the best educational blocks or toys? Could it be that possible?
I will definitely say yes. As we can all understand, it is difficult to discover educational toys that toddlers will love playing with, and you may already know this but blocks are an excellent choice to go for.
I am saying this because educational blocks  promote creativitywhile alsoimproving cognitive and motor abilitiesand increase your child's brain activity. They also promote and support your child's brain health as well as overall body health. They may be one of the first toddler toys, but they remain one of the most popular for a good reason. 
"Playtime is precious. Play builds brain pathways for thinking, creativity, flexibility,  empathy, and many other lifelong skills."

Heather Shumaker,

Author & Speaker 
What Exactly Are Educational Blocks? 
Those toy blocks are specifically made to promote a child's learning abilities through creativity.  Toddlers may be creative and exercise their creativity in a variety of ways with blocks as they allow children to create objects in whichever way they desire. Therefore, building blocks are  fantastic and adaptable toys and they should be added to every child's play box. 
"Children need the freedom and time to play. Play is not a luxury. Play is a necessity."

Kay  Redfield Jamison

Professor and Psychologist 
What Defines Blocks as "The Best Educational  Blocks"? 
Since they can be designed in different varieties including letters, shapes, numbers, and colors  to help your child learn through playing with them. They can also even choose their favorite colors  and design them the way they want to. Also, approaching and gathering blocks may appear easy, but it is an important part of your toddlers' learning process to enhance perception and spatial  awareness. 
Why are educational blocks a good idea? 
Because blocks, by their very nature,  enable young children to engage in their imaginations.When imagining what type of building they wish to construct, their power of imagination clearly  gets enhanced. As your child learns to construct, balance, and put blocks together, they will educate your toddler on spatial awareness, enhance their motor skills, and stimulate the  development of their hand-eye coordination. 
As they try to figure out how and why a structure stays up, kids will also learn how to solve problems and also explore the principles of cause and effect. 
"Perhaps play would be more respected if we called it something like "self-motivated practice of  life skills," but that would remove the lightheartedness from it and thereby reduce its effectiveness.  So we are stuck with the paradox. We must accept play's triviality in order to realize its profundity." 

Dr. Peter Gray 

 

 
How to choose the right educational blocks for you? 
For various reasons, various blocks and building materials can be utilized. It is up to your child's  age and interests that can help you choose the right toys for your child. Make sure what kind of  things  interest your childincluding colors, shapes, patterns as they will probably help you to select  the right set of blocks for your kid. 
As a general rule, two-year-olds should have at least 200 blocks, three-year-olds should have at  least 300, and children with the age of four years or older should have at least 400 so also keep  in mind the right quantity as well while choosing a building block set. 
Top 10 Educational Blocks
This is our list of top ten educational blocks for you to select from for your kid according to the  best suitability. 
This is our best and top suggestion for you to look into and select from. These  big building blocks are  designed to build child-sized castles, fortresses, towers, spacecraft, race cars, stores, tea rooms,  buses, lions, cats, dogs, and even dragons to let your children's imaginations run wild. If they can  envision it,  GIGI BLOKS can make it a reality. 
Your child will have the advantage of coloring them, painting them, writing on them with chalk,  and then turning them inside out and starting over with a fresh experience. And since they are  made from strong cardboard, they can play the role of blank canvas for creativity just like any  other cardboard/paper-based product. 
Pros 
 

They come in a variety of single, double, and triangular units. 

 

They give your kid access to creative design ideas. 

 

They include easy-to-follow instructions. 
Cons
These blocks are BIG, therefore they can pose some issues with storing for some people, but a great idea is to stack them up against a wall and they no longer pose as a nuisance.
This  high-in quantitymagnetic building blocks set is the best option to go for if you believe that your child's age is appropriate enough. They include 2D and 3D shape building blocks and would prove to be a good creative educational block set gift both for boys and girls. 
These magnetic construction blocks can aid in the development of your child's creativity,  imagination, critical thinking, and problem-solving skills. Each magnetic tile has two  distinct  random colorson each side, which can help children learn new colors and recognize shapes.
Pros
 

They can help your kid to enhance creativity.

 

Improving problem-solving skills.

 

Enhancing creative thinking.

 

Improving shape recognition ability.
Cons
They are age-specific and are not best for kids under the age of three years at all.
There are  33 distinct colorsof LEGO bricks in this set, as well as eight different styles of windows  and doors with eight different frames. Two various-sized green baseplates, three pairs of eyes,  six tires, and six-wheel rims are among the special parts that  encourage artistic building  projects. 
Pros
All of the models shown may be created at the same time with this package, which comes  in a handy plastic storage box. 

To get you started, there are ideas available with the set and online at LEGO.com/classic.  (How cool is that?) 

Promises open-ended creativity for your kid. 
Cons
Also age-specific and are only good for kids of age four or up.
This Melissa and Doug Deluxe Wooden ABC/123 Blocks Set includes 50  one-inch wooden  alphabetblocks and 123 other blocks with a variety of drawings, symbols, and numbers in a  classic manner. It would be a good investment to give your kid an option of screen-free time of  fun and education. 
Pros
It comes in multi-colors. 

Includes a variety of shapes and numbers. 

A good experience for early childhood play. 
Cons
Low in quantity. 

Not interesting for kids a little older than toddlers. 
In this baby blocks set, each block features an embossed animal, shape, fruit, Arabic numbers,  and geometrical patterns on the sides of the set of 12 baby blocks. 
Touching and watching these imprinted patterns can help your children  develop their sense of  touch and vision. This fantastic set of blocks can also aid a baby's early childhood development. 
Pros
The material as they are made from food-grade silicone. 

They are easily chewable and soft and perfect for babies at the age of six months.

Easy to grab by a baby hand and squeeze. 
Cons
For the price that these blocks sell for, there are only a handful of blocks that you get.
There are  75 pieces with different shapesin this toy set. This solid wood toy set is designed  with  STEM building concepts. This wooden block set provides many developmental benefits for  your kids.  
Pros
The toy set is made of pure wood. 

Light in weight and have no pointy edge so, your child is safe while playing.

Helps in Hand-eye coordination and shape recognition. 

Boost motor skills and enhance creative thinking. 

Also helps to enhance problem-solving ability. 

Best educational blocks for a birthday present 
Cons
There are only 75 pieces in this set, so there is more limit on the things that your child can make with these blocks.
This Bacivic children building blocks toy includes 100 pieces of  different sizes and a variety of  colors. They are one of the most interlocking blocks for children out there. These blocks are made so that you can interlock these blocks in any way that you want, due to their unique "hedgehog" design. 
Pros 
No harmful or toxic material is used in these toys 

Reusable, flexible, easy plugin and plug out. 

Allows your child to make 3d structures. 

Enhances the developmental abilities of your child. 

Encourage Creativity and engage your child for a long time. 
Cons 
It is age-specific, only good for kids of age under 3. 
These high-quality magnetic building blocks tiles are also great educational blocks for kids.  This toy set includes 125 pieces. It allows your child to make 3d objects while it  enhances creativity. Each tile has a distinct color that has the capacity to quickly grab your child's attention. This set is a great idea for a birthday present for a 5 year old. 
Pros 
No toxic or harmful material are used in this toy set. 

Aids to develop Hand and eye coordination.

Helps in color recognition.

Enhance creative thinking. 

Refine motor skills.

Best educational blocks for Christmas presents.
Cons
While the materials used in this toy are not dangerous, the pieces can break if your child is being too rough with them, and then the child has access to the magnets inside, which are small and can be swallowed.
These high quantity building toys contain 167 pieces including 2 screwdrivers and 2 wrenches.  With this toy set, your  child can make different kinds of toy models. This toy set is designed  with a  STEM building concept. It is the right educational block toy that can help your child to grasp the concepts of machinery and engineering faster. 
Pros 
It Improves your child's creativity 

Enhances motor skills. 

Refine logical thinking and enhance problem-solving thinking.

This toy set is made of rubber. No toxic or harmful material is used. 

Best educational blocks for a birthday present for a 7 year old.
Cons 
It's not the best option for toddlers.
These are fantastic learning blocks. There are 100 pieces of distinct colors as well as different  shapes of pieces in this toy set. It contains small cubic pieces that interlock with each other and are used for the  unlimited  creation of different models. 
Pros 
This toy set is made of non-toxic material. 

Durable and easy to wash. 

Improve spatial skills and creativity.

Improving Independent play .

Great for sensory development.
Cons
The pieces are quite small, so there is a choking hazard attached to these blocks.
Where to find the best educational blocks? 
Well, in the modern world, you can have a lot of options for where to buy toys for your children. But the most popular options are:
Online stores 
The first and the  best option is to go for an online store. This is because shopping from an  online store will be extra beneficial for you as it would provide you with a lot of time to think before  making any decision. 
You can simply research the varieties of blocks and their benefits on the internet while sitting in a comfy chair at your home. There will be no hurry while shopping from online stores and you can  have different online stores to look at and compare before you finally do make a decision. 
Toy stores 
This would be the best option for those who want to actually see and measure anything before  purchasing. You can simply go to the market and look for the right toys for your kid while actually  looking and feeling the toys closely before you buy them. 
Sometimes in supermarkets 
Well, if you do not have any more time to spare to wait for shipping or going to an actual toy store, then sometimes you can actually find educational blocks in a supermarket, though a big downside is that there is usually a very limited amount of types of educational blocks that can be found in supermarkets.
Conclusion
Now after discussing all the best options, you have all guidelines for choosing the top educational  blocks. 
We know that all toys have their benefits but if you like to ask us what would be our top pick, then we highly encourage you to buy GIGI Bloks. These are the  biggest interlocking building blocks in the market and they are  highly recommendedbecause of their different great benefits and reasonable price. They can help your child to  convert their imagination into a reality. Besides, your child can use these blocks to paint on, write on and draw on, because they are made out of cardboard. 
This toy set provides the best options to build real-size things like castles, fortresses, towers,  spacecrafts, race cars, stores, tea rooms, buses, lions, cats, dogs, and even dragons. 
So why wait? Choose the  best blocks for your child and order the best educational blocks now  and help your child grow faster physically and mentally!
"Child's play is not a mere sport. It's full of meaning & serious impact. Cherish it and  encourage it."
F.W. A. Froebel,
Pedagogue & Created the Concept of Kindergarten
And as always:
Dream BIG!
Build BIG!
Leave a comment (all fields required)