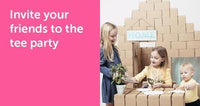 Children love to play out different life scenarios.
Suggest the idea to build table and chairs to invite some friends - real friends or bear, mouse and a little frog.
Try out for inspiration some story.
Maybe something like this...
"Today the queen is coming over for a tea. There are some serious matters to discuss- how to make a world peace, how to get lots of snow for the Christmas and in which of the 151 rooms to organize the annual Gala." 
Post your picture on Instagram and WIN an extra set of

100 XXL Building Blocks

 
Click here to learn how it is working.
bit.ly/get100XXL
Leave a comment (all fields required)