How Durable Are GIGI Building Blocks?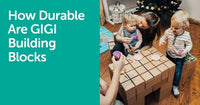 Light cardboard blocks - can they be durable enough for children to play with in a long term? Especially toddlers, who like to throw their toys and climb and step on things! When it comes to GIGI Bloks, we say YES! And a big one, as we have tested thousands of blocks in numerous children events and photoshoots, and they all still can be used for building BIG. 
Each block has a unique design double wall, which makes the construction particularly durable. See for yourself.
Leave a comment (all fields required)