Have Some Alternative Christmas Fun With the Kids by Creating a Christmas Tree Made from building blocks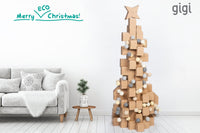 Winter has arrived. A magical season for parents of young children. And one which can bring families closer together by spending more time in doors cosying up in the warm comfort of home. Anyone for a hot chocolate with cream and chocolate sprinkles?

Winter also means the joy of Christmas is only weeks away (yeah, hard to believe, I know). Are you one of the many families who enjoy the tradition of searching for a Real Christmas tree from your local farm? Or do you tend to opt for the warmer approach of a shop brought artificial one?

Both types offer something unique – you can decorate to your hearts content, the fresh distinct smell of a real one is unrivaled, as well as the lack of mess generated from the artificial one – all benefits in their own way.
Did you know though, that there are nearly 30 million Real Christmas Trees sold in the U.S alone? Were you also aware that the U.S. Commerce Department estimate 80% of the worldwide artificial trees are manufactured in China?
Have you ever considered a Christmas tree alternative?
Here's a thought: Have you ever considered a Christmas tree alternative? One which offers a little more variety and re-usability? An Eco Christmas Tree could be for you and your family.

Make it as wacky or traditional as you wish – just use imagination. Your child's and yours combined may be able to conjure up an entire Christmas forest!
It can also serve as a perfect opportunity to spend some much-needed quality time together as a family. Christmas can be a busy and stressful period for parents and the build up to Christmas is the best part for many kids, so it is important to create a positive festive feel around the house for everybody. You can decorate with DIY decors, use washable paint, you can create a unique theme – based purely on your child's imagination. (and maybe the kid in you). Who said putting a Superman on top of the tree instead of an angel is a bad idea? Not me.
Our family for several years has a Christmas tree from GIGI Bloks. You will be pleased to know with one set of 100 XXL building blocks you can still achieve a 1.5m tall magical alternative Christmas tree!  If you want to go higher – grab more!
Holiday Giveaway 2020
This year GIGI BLOKS is taking out time to promote eco Christmas. You can benefit from it as well. Build your Alternative Christmas tree from GIGI and post the picture on Instagram. Add #gigiChristmas #gigibuild and you can become one of the three winners and receive 100 XXL building blocks as a gift! 
This contest will last from 12.11.2020. until 1.01.2021. And on 3.01.2019. we will announce the lucky winners. 
Maybe devote an hour a week to create a new Christmas tree throughout December? There are no limits on how many pictures you can post.
Once Christmas is over, you can re-use these blocks to let children build REAL-SIZE representations of his/her imagination. Or you could maybe unfold them, tuck them under the bed ready to be used for the next Season! A lifesize Easter Rabbit made from cardboard blocks could be next!

Have fun and sing songs!
Happy eco-Christmas!
Leave a comment (all fields required)