Cognitive Benefits From Playing With Building Blocks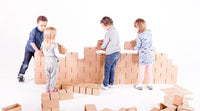 As we mentioned in the previous blog post about how building blocks can help boost creativity, block play encourages children to match, count and sort. Also, blocks usually come in various sizes that can be stacked in many different arrangements. When a child puts two smaller blocks together he gets one bigger block to use – it is a fantastic way how to introduce the meaning of big and small, as well as half and whole. Matching, counting, sorting – these are just a few concepts taught in preschool and kindergarten, which you can continue teaching your child while playing!
All this supports the statement, that block play is very beneficial not only for physical, emotional and social development, but also for cognitive, as it includes symbolization and representation, directionality, the process of making comparisons, classification, following sequence and supports divergent thinking and logical reasoning.
Nevertheless, the child makes associations, learns about problem-solving, relationships and how to find new solutions.
"Playing with blocks helps children develop their vocabularies, improves math skills, and even teaches them about gravity, balance, and geometry. They learn how to describe colors, shapes, sizes and positions as they build various structures."
When it comes to math, children can learn more about things such as area, size, order, space, shapes, numbers, mapping, patterns, measuring, fractions, operations, estimating, negative space, adding, one to one correspondence, seriation.
As mentioned before, blocks can help develop child's vocabulary and increase his/her understanding about labeling, sentence structure, spatial visualization, balance, symmetry, and even weight, height and gravity!
Yes, building blocks are simpler than the most of the toys in the shops, but do those toys can provide even a half of these benefits? Building is all about size, shape, weight, leverage, and balance, and as your child works this out, their building and block play will become more and more complex. As the complexity increases, so does their concentration level.
Psychologists and education specialists all agree – if a child learns new things through joyful, healthy play – he/she develops love of learning more easily, so why don't you try? Or maybe you have? :) Then share your experience in comments and lets fall in love with block play all together!
Comments (5 Responses)
Leave a comment (all fields required)