Build Your Own Christmas Tree with GIGI Bloks!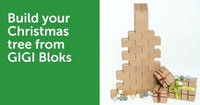 With Christmas approaching you probably have already started thinking about this year's Christmas decorations. If so, GIGIhas an idea – why don't you try building your Christmas tree from GIGI Bloks?
Alternative Christmas trees have become extremely popular – people build trees from books, branches, boxes, wood, paper, and even decorations simply hanging in the air! If you also want to be original this year and to try something new - why not build your Christmas tree from GIGI Bloks? It is such a diverse building material, so you can design your own tree..it can be small, it can be BIG, it can be simple, it can be SUBLIME! You can even organize a party with your friends or family where you all create your own decorations for this tree or wrap it with chirstmas lights.
It will be extremely easy to take care about it, as there won't be any tree needles on the ground, afterwards it will be a great toy for your kids, it will be original, and nonetheless – it will be BUILT BY YOU and your loved ones.
Depending on the size you want, take set of 100 giant building blocks that would give you around 1,5m high Christmas tree. Want bigger? Grab more!
We would love to see how your tree turned out!Post a pic on Instagram with hashtag #GIGIBuild or drop us an email connect@gigibloks.com! :)
Leave a comment (all fields required)