Build a Dog with Building Blocks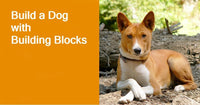 Challenge yourself and kid to build a dog from GIGI Bloks.
I have tried it, and it is not easy.
Look at this version. Not my best work :) 
It takes patience, practice and imagination to get better results.
So, if you have up to 30 building blocks, or you want to start easy. This is the easier version, and it has also an instruction.
If you want a challenge or you have tried a simpler version. 
Try to build sitting dog, like in this example.
Share your creation with the world!
Every month we will choose the winner of the#gigibuild contest. You can also win a free set of 100 XXL building blocks. Add your picture on Instagram of your kid playing with GIGI Bloks +#gigibuild. 
Gratefully yours,
Ilona
Leave a comment (all fields required)