Best Educational Toys For 2 Year Olds 2022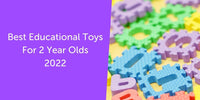 Best Educational Toys For 2 Year Olds 2022
Playing is an essential part of childhood, which provides a lot of insight as well as educational value to children. It's only normal that you are looking into educational toys for 2 year olds when you want to find the best toy for your 2 year old. The downside is that the market is so saturated that it can quickly become overwhelming seeing all these toys with all those features.
Luckily for you, I'm here to help you navigate yourself through this. During this blog post, we will look at educational toys for 2 year olds, how to choose them and what to look out for when looking to buy some for your child. Stick around to find out, which ones are the best educational toys for 2 year olds and what to look out for when looking to buy some for your kids.
But why are educational toys for 2 year olds the way to go, you may ask…
Why educational toys are the best bet for your 2 year old?
 

"Play is the answer to how anything new comes about." 

- Jean Piaget
Of course, it's fun to play with plush toys and others of such nature, but educational toys are where the real value is. These toys are designed to stimulate the learning of various constructs and concepts. They are great for improving things such as problem solving, overall cognitive abilities and not to mention, motor skills, and creativity, among many other things.
Toys with predetermined usages aren't as great as so-called freelance toys which have an infinite number of usages and ways of assembly, meaning that an infinite amount of value can be extracted from them. 
So, why don't we take a look at some of the best educational toys for 2 year olds?
Top educational toys for 2 year olds
This set of big building blocks from GIGI Bloks is a great educational toy for your child. There are many upsides to this product. This set of blocks will improve your kids' critical thinking, creativity, motor skills and teach them about things like problem solving among others. 
This set can be used to construe various toys or to build houses, cars, and other things. It is durable, long lasting, and most importantly limitless. The possibilities are truly endless…
This one can be ranked amongst fun educational toys for 2 year olds. The beauty of this set is the amount it offers. It includes books, flashcard games among other things, all these tools can help your child learn about colors, alphabet, numbers, and other essential things. 
It is also made to be as durable as possible. 
Children will love this one! This is a nice, colorful, and interactive set. It will help your child learn to count, learn about shapes, colors, etc. This particular set is multifunctional as it includes 5 toys into one, which is one of the reasons this ranks among the best educational toys for 2 year olds.
The set is also tested and approved for safety, it is compact and most importantly provides an engaging educational experience.
Doodle mat may sound a little confusing at first. When we hear of doodling we first think about doodling on a blank page of paper. This mat is made just for that, but when you draw on it, after a couple of minutes, it disappears. 
To draw you can use a pen that is filled with clean water, that is all you need. After the child has drawn something on the mat, it disappears after 3-10 minutes. 
Since you're in the market for educational toys for 2 year olds, this one is definitely worth paying attention to. It features colorful shapes with numbers on them, which will stimulate your child's learning. While they will be playing with this toy, they will improve in many ways. 
Playing with toys of this sort will improve a child's creativity, concentration, fine motor skills, and many other things. 
The only problem with this toy is that it has a predetermined way of playing with it, sadly it doesn't offer infinite amounts of assembly or just ways of playing in general.
This toy offers a chance to learn the alphabet and numbers in a fun and stimulating way. The letters are listed colorfully and every letter has an object displayed beside them that everyone will recognize. 
Toys of this type never cease to amaze children. Especially when they initially try it, it's like magic to them. The reason why it ranks among the best educational toys for 2 year olds is that it improves a child's memory and sensory system in general, not to mention creativity. 
This toy is portable and compact, it is designed to be as safe as possible and most importantly it can serve as a fine addition to your child's toy arsenal.
This is a toy which not only has an educational aspect to it, but also a physical one. It is not only about developing motor skills, it's also about getting some exercise. This toy features a basketball hoop and a soccer goal. 
Remembering myself when I was little, I remember a time when my self expression went a little too far and I started to paint on my walls. Luckily, my parents could wash it off, but I just can't help to think how much easier my parents' life would be if I had this toy at that moment.
Drawing has always been perceived as a good way of expression, nobody has ever disputed that. Drawing can serve not only as a form of expression, but it can also serve as a means of learning. 
Using this drawing board, you can let your child express themselves visually. You can also use this board to help your child learn about different objects, numbers, letters, etc. All in all, this ranks among some of the great educational toys for 2 year olds.
When looking at learning toys for 2 year olds, this one sticks out, purely because of the modern aspect it has. This toy is a gaming kit with which your child can build their engineering skills. 
After getting this toy, you can download the PLUGO app which is made specifically for this toy set. It has 200+ progressive levels. It also adjusts the levels to your child's age, so it's doesn't exceed their abilities too much.
What educational toys do 2 year olds need?
Now that we've taken a look at some of the best learning toys for 2 year olds, a question pops up. What educational toys do 2 year olds need? This is a good question. Obviously the more range a toy has and the more it can offer the better. 
One of the best choices are big building blocks, which improve childrens' cognitive abilities, motor skills, creativity and so much more. Other good options may be flashcard games, drawing boards, basically, things that by design are already made for learning. Although the downside to these is that they are more or less predetermined and don't have as much range as other toys. 
That is why building blocks are so good, they offer a fun playing time, the learning aspect, and the chance to produce something new and tangible every single time. Of course, it is fun to draw but if you can see and feel the same thing you've drawn it's a whole another thing.
What benefits should educational toys for 2 year olds have?
Educational toys for 2 year olds offer a lot of benefits and if you think about them, all of them are important. However, the main ones are usually about the same. Some of these include
Development of fine and gross motor skills

Introduction to the concept of sharing and others of such nature

Improvement of creativity and imagination

Development of engineering, mathematical skills, spatial awareness and understanding of it.
Before you choose any learning toys for 2 year olds- keep these in mind...
Understandably, you might firstly think of the benefits that these educational toys for 2 year olds will give to your child, but it's also worth remembering some of the more practical factors.
There are a couple of things you should take into account, for example…
Materials used in the making of the toy
The materials used in the making of the toy is one of the most important factors when it comes to buying these learning toys for 2 year olds. You should ask yourself, how durable do you want the toy to be. 
As we all know, children tend to break things, so it would be well important to give a thought to what material the toy is made out of to ensure its long lasting.
Another factor would be the safety of the material, for example, if the toy is made out of brittle plastic it can break easily and therefore can pose a certain threat. In such case, it's better to go along with some safer options such as cardboard, which is safe and poses zero threat.
Price of the educational toy, AKA get the most bang for your buck
Educational toys for 2 year olds can have a wide range of prices, they can start for just about 15 USD and can go up to 100+ USD.
 We, however, recommend you choose anywhere from 70-90 USD, since these toys have proven to be more durable, have a longer life, and generally offer more than the ones more on the cheaper side. At first glance, the top educational toys for 2 year olds seem to cost a lot, but the value they offer is worth far more than that. 
How fun is it?
By far the most important factor, how fun is it? This is the main thing to look for when shopping for educational toys for 2 year olds. Purely because, if you take away the fun aspect, is it a toy? 
Previously we looked at the best learning toys for 2 year olds and they all offer a great deal of fun. When looking to buy one, you should pay attention to various factors, here are some of them:
Think about what your child would love and find interesting

Think about the longevity of the toy, how can it be used down the road

Is the toy good for playing together with other kids too?

Which toy has the best balance between educational value and fun
Which
skills does this toy help develop?
Another important factor right here. When in the market for fun educational toys for 2 year olds you should look into what skills does this toy help to develop. When thinking about this, the best way to go about it is to think about the range the toy offers. 
Think about the things your child will gain by playing with the toy. It's best to choose the toy which in your mind offers the most. If it doesn't feature something you want, you can always get creative with it yourself. For example, you can turn building blocks into a game that teaches your child numbers, letters, and so on. If you choose a toy that has no limits and pair it with your creativity, saying that the "possibilities are endless" would be an understatement. 
How do educational toys for 2 year olds differ from any other toy?
Maybe while reading this blog post this question has popped into your mind.
There is a large difference between regular toys and educational toys. Educational toys are made with the intent to be educational, from the beginning the companies that make them are trying to make them so that they offer as much educational value as possible. 
On the other hand, regular toys are usually made to bring fun to children. Of course, they still are beneficial to the child, as they still introduce them to various concepts and teach them a lot of important things. However, since educational toys are designed to be educational, they will speed up the learning process and who doesn't want that, am I right?
What is an appropriate toy for a 2 year old?
Now that we have looked at some of the best educational toys and answered questions you might've had, there is still some ground to cover. You might ask, what is an appropriate toy for a 2 year old?
An appropriate toy for a 2 year old would be one that exceeds their abilities just a bit so that there is room for learning. Another thing to take into account is that the toy should have longevity. Think if your child will be able to use this toy, for example, in a year and if he or she will find it interesting later on.
In conclusion
Educational toys are great if you want your child to have an educational experience while also at the same time having fun playing with the toys. We have looked at many great educational toys for 2 year olds, and I know, there are so many options to choose from and it can get a little confusing when you have all these options. Although, I hope that I've shed some light on this topic and you now find it easier navigating through the world of educational toys for 2 year olds. 
If I had to recommend to you some toys that I found interesting, those would be the Learnabee Toys since they have many different options on how to play with them. My other favorite is the GIGI Bloks 100 XXL building block set since I feel like it's very multifunctional. It is also made from durable cardboard which is safe as well as environmentally friendly. Since these blocks are durable they are just as good for outdoor play as they are for indoor play.
Want to find out more about the best cardboard toys? Check out our blog about best cardboard toys.
You have been provided with many great options, all of which in my opinion are some of the best educational toys for 2 year olds. There are a lot of options and it can be a lot to process. I hope you find it easier now to critically assess which one will suit your and most importantly your child's needs. Nonetheless, whatever choice you make regarding getting these toys, I hope that you and your little one will have a great time with them, a time filled with fun as well as learning!
And remember:
Dream BIG!
Build BIG!
Written by: Pauls Paeglis
Leave a comment (all fields required)