How do you keep kids entertained during Covid?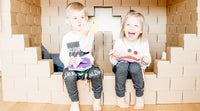 In many places, schools and day cares are closed. Here are some tips on how to entertain your little ones, and on how to talk to them about Covid-19.
Even though our kids' lives rotate around social gatherings—birthday parties, playgrounds, public libraries and zoos—we have to keep them isolated from other humans, large and small, in the interest of public health.
So what can you do with a toddler if you can't bring them to a playground and let them lick all the available surfaces?
First of all, start your day strong.
Get dressed, eat breakfast together and maybe do a fun exercise to get everyone motivated and ready to start the day. Talk to your children at each stage, explaining what you are doing and why ensuring they are engaged in each activity.
1. Imaginative "work" play

Parents working from home may need to adjust expectations during this time. But it's also a chance to show kids a part of their world. Encouraging imaginative "work" play may be a way to apply "take your child to work day" without ever leaving home! 
With GIGI BLOKS you can actually use our building blocks to build your dream profession stage and play it out.
2. Get creative in the kitchen
Choose simple options like homemade pizza, get all the ingredients into little bowls and they can add the toppings – you can make your own faces etc. Another favorite in our household is rice crispy cakes.
3. Bust Out the Toy Box
For my children—and possibly yours—that magical toy is the basic bricks set. Not only do they have fun building, they also like to destroying each other's creations.
4. Costumes
Don't get rid of last year's Halloween costumes too quickly—they're a great thing to dust off for long days trapped inside. Have your kids write their own sketches and then put on a performance. You'll be amazed at the different ways that kids can re-purpose costumes to suit their imaginative play. 
5. Daily arts and crafts
Create a project for your kids that they can work on every day. Paint a picture, bead sets to make your favorite jewelry - my kids for example love using leaves and flowers to paint on making prints. Another tip is to use potato cut outs to dip in paint and stamp. There are some great websites we love to help kids learn how to draw – for example, artforkidshub.com is super creative. 
In the end. Children should earn screen time.
To avoid having kids and teens spend hours on their iPhones and Xboxes, create a system that lets kids earn their screen time.

"What about saying, 'Look, here's the vacuum, you take care of the living room, and you can have like 20 minutes of Minecraft,".

Although kids should be pitching in as a part of the family, this rewards system gives them a chance to develop some independence.
Stay home. Stay active. Stay creative.
Leave a comment (all fields required)