16 International Holidays That Helps To Teach Lasting Values and Essential Skills To Your Children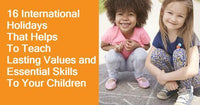 You want your children to be happy, fulfilled, and successful. That's why teaching a child values and essential skills like gratitude, empathy, love, curiosity, and self-esteem is usually considered just as important as teaching a skill like reading.

Here is a list of international holidays that will help you foster values and raise happy children and future world-changers.

1. January 11: International Thank-You Day
This celebration is the ideal opportunity to show your gratitude to people who make your days what they are. Take a moment and tell each other what you are grateful for. Your example will foster gratitude in your child.
#gratitude #empathy #forgiveness

2. January 21: International Playdate Day
This is a day of epic fun and the celebration of play, imagination, and creativity! On this screen-free day, millions of children get out and play with their friends. Children discover themselves and learn essential skills through play. So, organize some playdates for your kids. They can meet with other friends and play with the toys they got for Christmas and/or with their favorite toys, like GIGI Bloks, Barbie dolls, Legos, Hot Wheels, etc. 
#selfawareness #selfdiscovery #selfesteem #curiosity #joyoflearning
#internationalplaydateday #playdateday

3. February 17: My Way Day
My Way Day has been created in celebration of that wonderful phrase, "It's my way or the high way". It is the day where you are encouraged to do whatever you want, however you want. This is the day to remind our kids, you don't need to fit in any box. You create your own box, and that is by doing what works for you.
#selfawareness #selfdiscovery #selfesteem #confidence

4. February 26: Tell a Fairy Tale Day
Gather round the fire and make yourselves comfortable… Tell A Fairy Tale Day is all about exploring myths and stories, old and new. From Grimm tales to urban legends, tap into the dark corners of your subconscious and see what you find… Celebrate this holiday by reading some of your favorite fairy tales to the children in your family. This will create a magical world of imagination for your kids.
#selfawareness #selfdiscovery #curiosity #joyoflearning
#tellafairytaleday

5. March 24: Earth Hour
Around the globe, millions of people and businesses set aside an hour to host events, switch off their lights, and make noise for climate change. Earth Hour shows us how each of us can be heroes for our planet, our home. Our actions today can change our tomorrow if we work together. This is such a simple lesson, but so valuable.
#humility #gratitude #responsibility
#earthhour

6. April 2: International Children's Book Day
Children's Book Day celebrates thousands of books that parents have read and shared with their children to encourage literacy and stimulate the growth of their imagination.
What was your favorite story as a kid? Children's Book Day encourages you to get it out and read it through again, maybe to your children or grandchildren. Walk down memory lane and think about all the times you heard these tales and what they mean to you.
#Selfdiscovery #joyoflearning #curiosity #creativity
#childrensbookday


7. April 15: World Art Day
World Art Day is celebrated to promote awareness about creativity around the world. Art includes a broad range of human activities in creating visual/auditory works or performing. Art lets one express their creative or technical skills while being appreciated for their beauty and emotional power. Creativity is what we witness all around us. You can have a painting day, for example. Take a huge canvas and paint it with your kids together. It's definitely gonna be messy, but creativity doesn't arise in tidiness, right?
From April 15 till April 21, celebrate the world's creative and innovative ways.
#Selfdiscovery #joyoflearning #curiosity
#worldartday


8. June 1: Universal Children's Day
Generally, this date is dedicated to raising awareness for issues affecting children through speeches about children's welfare, well being, and rights as well as many events celebrating childhood.
So go out and find some exciting activities for your kids.
#selfawerness #self-esteem #empathy #compassion
#internationalchildrensday


9. June 15: Smile Power Day
The smile is a symbol of happiness and vitality, a beacon of hope and an expression of emotion. So just for today, drop the ':)' texts and flash the world a real smile.
Smile Power Day is meant to be shared with loved ones. You can take them all out to a stand-up show, put together an organized smile-off, eat smiley-glazed cupcakes, drink some Smile Cocktails, and paint smileys everywhere because everyone and his brother loves them.
#love #gratitude #empathy #compassion #behappy
#smilepowerday


10. July 3: International Plastic Bag Free Day
Most of us use them every day, thin plastic bags are used by almost every retailer we visit.
Every day, millions of plastic bags get disposed of, and without active people like yourself getting involved, the future is going to be dealing with hundreds of millions of pounds of plastic bags clogging oceans, rivers, and the world at large.
There are a lot of good ways to celebrate, and the easiest requires a simple resolution on your part. Even if just for one day, choose paper over plastic, or (even better) bring your own bags to pick up your goods.
You can make it on your own using materials you already have at home.
#responsibility #compassion #gratitude #humility
#internationalplasticbagfreeday

11. July 30: International Friendship Day
International Friendship Day is a day designed to foster friendships and bridge the gaps between race, color, religion, and other factors that keep humans from enjoying friendship with one another. Today, in such a global society, it is imperative that the leaders of tomorrow respect, include, and understand world diversity.
The International Day of Friendship is also based on the recognition of the relevance and importance of friendship as a noble and valuable sentiment in the lives of human beings around the world.
#humuility #love #emphaty #Gratitude #forgivness
#internationalfriendshipday


12. August 8: Happiness Happens Day
It's a day dedicated to the happiness and to the optimism that can make it happen. To celebrate Happiness Happens Day, take time to notice all the good things that happen to you, even the totally mundane sources of happiness (the electricity that didn't go out, the waitress that got your order right). Then, take it one step farther and start telling people about all these things that have made you happy today, rather than commiserating about your problems together. Try it and ask your kids to express what they are happy about today :)
#behappy #love #empathy #gratitude
#happinesshappensday


13. September 21: World Gratitude Day
This is the day to express gratitude and appreciation for the many wonderful things to be found in the world and amazing things we have in our lives. Doing so would positively impact our well-being and make us happier, more content people.
The benefits of having time in one's life for gratitude, appreciation, and positive reflection have become increasingly apparent. If you don't practice it, this would be the perfect start to do so and teach your kids as well. Every evening before bed, choose three things in your day that you are grateful for.
#behappy #love #empathy #gratitude
14. September 25: World Dream Day
Every success story begins with a dream, so dream big and celebrate the power of imagination on Dream Day.
Get together with your close ones and talk about your dreams, what you want most in life. It would be so fun to make a dream board—one for each person, or one for the whole family—and then talk about an action plan to make it happen to help everyone achieve their dreams.
It is so simple, and there lies its beauty: All you have to do is… dream!
#selfawareness #selfdiscovery #confidence #curiosity

15. November 20: Universal Children's Day
Today's children are tomorrow's scientists, politicians, doctors, and teachers. Today's children will inherit all of what humanity has managed to accomplish since the beginning of its existence, both the good and honorable deeds and the cruel wars and terrible failures. It is the children of today that will be charged with protecting the weak and vulnerable of this world, and making even the hardest of decisions in order to do so.
Who then, if not our children, deserves a holiday? This special day is dedicated to all of the children, so that they may enjoy these carefree years while they last and be ready for the responsibilities that await them. So let's live it up, kids!
This day would be a great day to spend with them, doing something both fun and educational that the whole family can enjoy.
#behappy #selfawerness #love

16. November 27: Giving Tuesday
Giving Tuesday was created to help the "giving season" get started, reminding people that there is more to holidays than consumerism and commercialization. There are many ways to give in order to help others, and many things that can be given besides money. The truth is that there are thousands of charitable organization the world over, many of which are likely located somewhere near you. Every single one of them could use your help, so find a cause that is especially important to you and your family, whether it's fighting a certain type of cancer, helping to buy schoolbooks for children for very poor families, or helping the animals at your local animal shelter, and take action! However you choose to celebrate the day, do it together with your kids and family and share it on Giving Tuesday's official website to spread the word to the entire world.
#empathy #responsibility #gratitude
#givingtuesday

Use these holidays for inspiration, put your piece of love into the world and make it a better place.
Download Holiday Calendar right now and make it a part of your New Year's resolutions.
Leave a comment (all fields required)